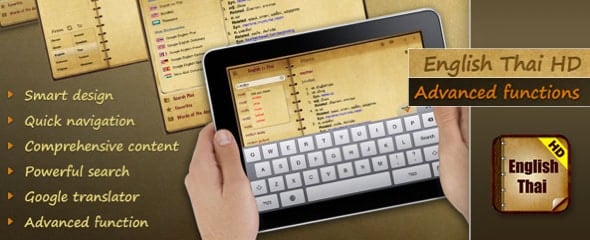 HEdictionary English Thai HD…
EDIT: This app is no longer available for Thai.
Before I launch back into my extensive reviews of iPhone apps for the Thai language learning market, I thought I'd share this beauty with you.
HEdictionary English Thai HD is a superlative dictionary not only for Thai to learn English but also for English to learn Thai. The comprehensive dictionary contains 4 built-in dictionaries and Google – Thai dictionaries. Moreover it can work as useful online translator for your instant needs.

If you are looking a good way to learn Thai online, check out ThaiPod101. Although their courses are not free, they are cheap, effective, and can quickly teach you conversational Thai. All ExpatDen readers get a 25% discount using this link.
iPad: HEdictionary English Thai HD…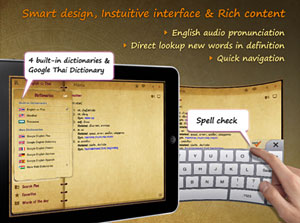 No longer online
Price: $2.99
Author: VietDorje
Released: 14 Jun 2010
Version: 1.0
Size: 107 MB
Sound: Yes
Internet connection required: Sometimes
Transliteration: Yes
Rated: 4+
English Thai with 52,000 entries
Thai English with 35,000 entries
WordNet 3.0: 200,000 entries, 3.5 million words and 1.7 million links
Thesaurus with 20,000 entries
Google English <> Thai dictionary
Audio pronunciation for English keywords
EDIT: This app is no longer available for Thai. I did manage to buy it before it disappeared though. It's a pity it's gone as it was a gorgeous app. Perhaps someone reading this can help bring it back?