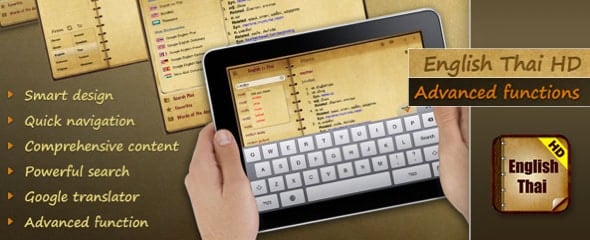 HEdictionary English Thai HD…
EDIT: This app is no longer available for Thai.
Before I launch back into my extensive reviews of iPhone apps for the Thai language learning market, I thought I'd share this beauty with you.
HEdictionary English Thai HD is a superlative dictionary not only for Thai to learn English but also for English to learn Thai. The comprehensive dictionary contains 4 built-in dictionaries and Google – Thai dictionaries. Moreover it can work as useful online translator for your instant needs.
iPad: HEdictionary English Thai HD…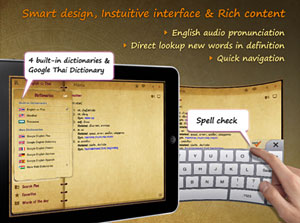 No longer online
Price: $2.99
Author: VietDorje
Released: 14 Jun 2010
Version: 1.0
Size: 107 MB
Sound: Yes
Internet connection required: Sometimes
Transliteration: Yes
Rated: 4+
If you are looking for a good resource to learn Thai online, check out Learn Thai from a White Guy. Upon entering your email, you'll get five free lessons to help you start learning to read Thai.
English Thai with 52,000 entries
Thai English with 35,000 entries
WordNet 3.0: 200,000 entries, 3.5 million words and 1.7 million links
Thesaurus with 20,000 entries
Google English <> Thai dictionary
Audio pronunciation for English keywords
EDIT: This app is no longer available for Thai. I did manage to buy it before it disappeared though. It's a pity it's gone as it was a gorgeous app. Perhaps someone reading this can help bring it back?