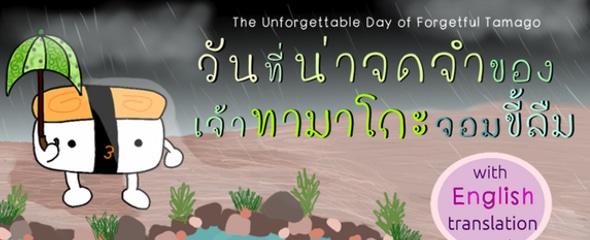 It's here! After putting in loads of time and having a heap of fun while she was at it, Yuki from PickUpThai released Tamago, a colourfully designed picture ebook for learning Thai.
Tamago comes with a LOT of stuff! The book comes in two formats, PDF and Kindle. There are cute books for each version (Thai, transliteration, and English), a plain pdf English with translations, plus three different sound sets (the story, extra sentences and vocabulary).
The Thai PDF version starts out with the story in Thai, then the vocabulary with English translations, followed by the story in English only, and ending with extra phrases to use the sentence patterns. The Kindle version is different in that the story is shown once and when you double click the Thai text the English translation for each paragraph appears in a pop-up text box. A sample is shown below.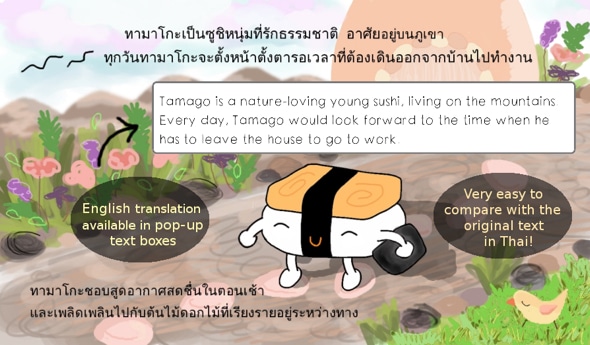 Who is it for: This picture book is particularly made for non-Thai adults learning the Thai language (beginner to intermediate), especially those who learn better visually with images. However, the story was written and the illustrations were deliberately created to also appeal to children. Since the book is bilingual, Thai children can learn English from it as easily as non-Thai speaking kids can use it to learn Thai.

Difficulty: The story is written at an intermediate level using mostly simple vocabulary and simple, short, sentences. The vocabulary is correspondingly basic, and drawn from everyday life situations. But learners will still find a few more complex sentences and complicated vocabulary words included to challenge them, maintain their interest, and help build their skills.
Prices:
Thai Script: $9.99
Transliteration: $9.99
Thai Script & Transliteration: $15.99
NOTE: Sample pages for each version (Thai script, Transliteration and English) with audio files can be downloaded from Tamago: E-Picture Book for Learning Thai.
Website: PickupThai
YouTube: PickupThai
Facebook: PickUpThai
twitter: @PickupThai