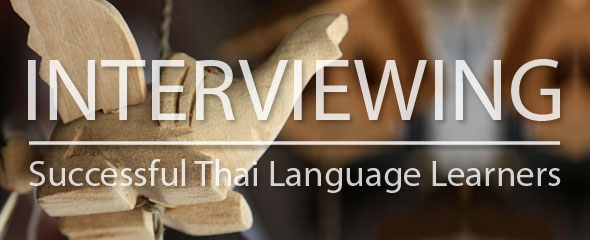 When elephants sprout wings and fly…
Do you feel deeeeeeeep down that you'll only learn Thai 'when pigs fly'?
Or how about when 'elephants' fly?
(Hey, it's Thailand. And besides, I had that great photo…)
Learning a second language is hard. Learning a tonal language? Yeah. REALLY hard.
And HARD can really mess with your confidence.
But quitting? Throwing in the towel? Giving up? Slacking off even? Easy. Totally.
But what if you had a few role models to emulate?
What if you were able to read the very real experiences of successful Thai language learners?
Language learners who are flying. Who just might be able to show you how to fly too.
Yeah. It even sounds great to me and I'm the one writing this stuff!
Interviewing Successful Thai Language Learners…
In the this section you will find out how others made it.
Going from their knowing nothing about the Thai language, to their own versions of Thai language learning difficulties, to the different methods that worked for them, to where they are now.
Successful Thai speakers. Those very same people we eavesdrop on in restaurants, bars and at Villa Market.
Yeah. Those people. The people we watch out of the corners of our eyes while pretending that it is no big deal that they can speak Thai fluently and we can't.
The beauty of this series is that each person interviewed will have a different experiences and learning processes, so you are pretty much guaranteed to find advice that fits you. Somewhere.
Different methods and tricks. Pretty much the same results. Something for everyone.
Sounds great to me.
Questions… questions…
Below are a few of the questions being asked:
Do you speak more street Thai, Issan Thai, or professional Thai?
What were your reasons for learning Thai?
Do you live in Thailand? If so, when did you arrive?
If you live elsewhere, how often are you in Thailand?
How long have you been a student of the Thai language?
Did you learn Thai right away, or was it a many-pronged approach?
Did you stick to a regular study schedule?
What Thai language learning methods did you try?
Did one method stand out over all others?
How soon did you tackle reading and writing Thai?
Did you find learning to read and write Thai difficult?
What was your first 'ah hah!' moment?
How do you learn languages?
What are your strengths and weaknesses?
What is the biggest misconception for students learning Thai?
Can you make your way around any other languages?
Were you learning another language at the same time as Thai?
What advice would you give to students of the Thai language?
If you are a successful Thai language learner who would like to share their knowledge with those of us coming up, please contact me to make it so.