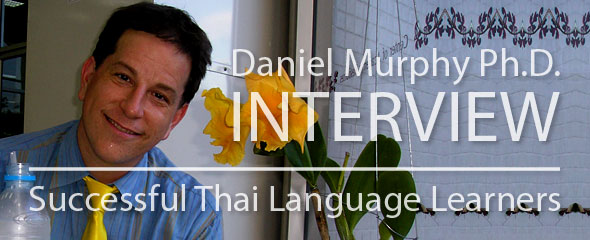 Interviewing Successful Thai Language Learners…
Name: Daniel T. Murphy, Ph.D.
Nationality: American
Age range: 40-50
Sex: Male
Location: Berkeley, California, USA & Bangkok, Thailand
Profession: Educational & School Psychologist, Licensed Educational Psychologist
What is your Thai level?
I am fluent in conversational Thai at a high level. I have taught undergraduates graduate students in Thai. I have participated and led meetings in Thai… I ask for clarification when I am not sure of a word. I fit the question immediately into the conversation or I look it up immediately as needed…

I speak acceptable "professional Thai" and I do fine on the street too. I do well with "passa glang" – middle Thai or Bangkok Thai… I understand Isaan and Northern Thai and Lao pretty well but I do not yet consider myself fluent in passa Isaan, Lao, Dai or Nuea – instead, I am a continual learner… I consider myself to be a learner in ALL conversations… It helps me to keep an open mind because something new is always coming up… "Beginner's mind" is worth cultivating they say… ☺
What were your reasons for learning Thai?
I love to communicate, chat, and learn – and Thai people are a great motivation…
Do you live in Thailand?
I am very lucky to have lived in Thailand for about 3 years out of the last 7.5 years. For two of those years I have worked professionally in Thailand as a teacher and an ajarn… The other total time of one year is combined travel thorough different parts of Thailand – mostly in Bangkok and Chiang Mai areas but also in many other provinces, too…
How long have you been a student of the Thai language?
I have studied Thai off and on for the last seven (7) years. And of course, my most intense study is when I am in Thailand… I usually speak some Thai every day with Thai friends – even when I am not physically in Thailand. Even when I am not speaking Thai with Thai friends, I often talk to myself in Thai – which I find interesting and stimulating as a kind of mental exercise… ☺
Did you learn Thai right away, or was it a many-pronged approach?
It has been a many-pronged approach – but I learned basic spoken Thai very quickly – so that I could use it in basic conversation.

In my first trip to Thailand (March 2002), I learned the numbers and giving thanks and learning where the toilet was, etc… After my first trip, I took a short course on Sunday afternoons at the Berkeley Thai Temple for about 3 months of Sundays for 3 hours a Sunday… Soon thereafter I started listening to Thai language tapes in the car while commuting…

On my second trip to Thailand (July 2002), I became friends with someone who invited me into her family community and I saw her and her family every day for nearly a month… After that first month of immersion, I had my first (AHA!) moment when I realized I could have a conversation (slowly but surely) with the grandmother of a friend of mine… My Thai responses were not very fast, but they were accurate enough to be understood… This was a great experience for me – to realize how quickly I was learning Thai at that point in time…
Did you stick to a regular study schedule?
Commuting was a good discipline for listening to language tapes… Later, having a multitude of Thai friends and a Thai GF helped to make all of my studies much more regular…
What Thai language learning methods did you try?
Making friends and socializing… Talking in person (much easier), talking on the phone (more challenging but also interesting). For the first year or so, I kept my dictionary with me all the time… I wore out two copies of Benjawan Poomsan Becker's Thai-English / English-Thai dictionaries and I am now using my third copy of the new and improved version (which has a MUCH larger and more READABLE font typeset – YIPPEE!!!)
Did one method stand out over all others?
As you will see in-depth below, I completely recommend making friends and socializing… To me, that is the "name of the game" in language learning… The social aspect is #1. Being diligent in paying attention to new words is essential. My general rule of thumb is that if I hear a word 3 times already I MUST check for word in the dictionary immediately…
How soon did you tackle reading and writing Thai?
From the beginning…
Did you find learning to read and write Thai difficult?
Of course! Reading and writing Thai is not "easy" at all… I know that I am auditory (sound-based) learner much more than I am a visual learner… So, for me, my reading and writing skills lag behind my listening and speaking skills… But that is also developmentally appropriate – we must "walk" (and talk) before we can "run" (read and write)…
How do you learn languages?
Basically, I listen and repeat with increasing complexity… I also tend to ask a lot of questions – and tend to steer the conversation around my interests and then swing back to my friends' interests, too…
What are your strengths and weaknesses?
My greatest strength is that I have intensely strong and focused listening skills for subjects that I am interested in… On the flipside, if I am bored by the topic (or the speaker), I am not as focused and my memory and interest in the conversation is less…
What is the biggest misconception for students learning Thai?
I think the biggest misconception is that you need to learn Thai from books and "certified" Thai teachers first… Books and teachers are needed, of course, but keep it in context as an adult learner… Find a friend who you want to talk with and start there… Language learning is a social activity and it should be that from the beginning. For me, overly academic treatments are boring and mind-numbing…
Can you make your way around any other languages?
I can speak, read and write fairly well for: English, Spanish, German, Swedish, and Norwegian along with my increasing fluencies in Thai…
Were you learning another language at the same time as Thai?
I like to think that I am learning "HUMAN" all the time… 555 – ☺ – that is not as "silly" an observation as you might think at first… Professionally, I earned a Ph.D. in Human Development from U.C. Berkeley back in 1994 – so I sincerely think that I am trying to understand all aspects of human development (worldwide) with the tools that I have…
What advice would you give to students of the Thai language?
Have great fun with all aspects of learning Thai… If it is not FUN – then change your approach – right away! Tah mai sanug, dtong blien witee khun reo reo nae nawn na krab!
Daniel T. Murphy, Ph.D.
Facebook: Daniel Murphy
The Series: Interviewing Successful Thai Language Learners…
Here's a heads-up: Daniel has two posts on the way: Seven Tips for Thai Learning, and Linguistic and Developmental Underpinnings of Language Acquisition. Thanks Daniel.
Getting advice from experienced Thai language learners is important. If you are a successful Thai language learner and would like to share your knowledge with those coming up, please contact me to make it so.