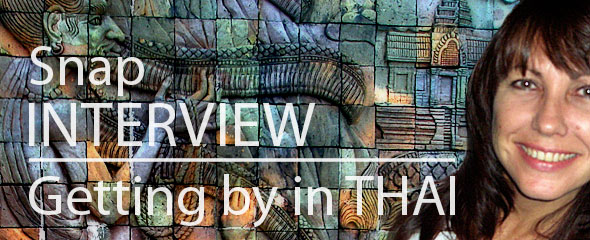 Snap is getting by in Thai…
Name: Snap
Nationality: Australian
Age range: 48
Sex: Female
Location: Now, Chiang Mai, usually, Brisbane, Australia
Profession: Office administration and self-employed chalk sign artist
Web: Learning Thai In Chiang Mai | Cooee | twitter: @SnapCooee
What is your Thai level? Intermediate / Intermediate + / Intermediate ++
Intermediate, meaning, a step higher than tourist Thai and one lower, than intermediate.
What percentage of conversational Thai do you understand?
Very little, unless it's spoken in class or by a sympathetic Thai person who's willing to speak with a drawl and repeat themselves.
Do you speak more street Thai, Issan Thai, professional Thai, or a mix?
I'm learning professional Thai, which doesn't always work out on the street. And, personally that baffles me.

So, for the little amount of vocabulary I have, I take note of street Thai, as well. For example: Wife: pronounced 'phanrayaa' at school, becomes 'phalayaa' once I step outside the classroom door. Or, 'sawadee jao' as opposed to 'sawadee kha', and 'lam' instead of 'aroy', for 'delicious'. I'm not purposely looking for alternative ways of saying things, one is hard enough for me to remember.
What were your reasons for learning the Thai language?
The main reason would be to communicate, interact and understand, while I'm here in Chiang Mai.

I didn't want to be that person who has lived here for a year or more and still holds up a piece of paper to the taxi driver, displaying the name (written in Thai) of a major landmark…true story!

And who knows what the future holds, I may end up coming back to Thailand long term, so any language skills I obtain now, will be useful down the track.

The second, I'm not getting any younger and learning a new language (so I've been told) is a great way of keeping the grey matter working for longer and delaying the onset of senility.

The third may sound odd, but I really DO love the Thai script from an artistic perspective and for that reason, secretly wish that the old Lanna was being used and taught more widely.
When did you become a student of the Thai language?
In early 2010 while still in Australia, when the plan to move here temporarily, became a reality. But my progress was seriously interrupted, for a few months, by the packing up of our lives.
How much time do you currently spend learning Thai?
I attend two classes a week, both three hours long. Set homework (if any) can take up to one hour per week, but self inflicted study…well, that ranges from one to three hours.
Do you stick to a regular study schedule?
No, not really, but should. Guilt usually sets in and pushes me to get out the books, or to at least scoot around the Internet looking for more words/phrases/videos to study.
What Thai language learning methods are you using?
While still in Australia, I used a combination of tourist phrase books, Internet resources, like the Manee Reader for children, and a plethora of websites including Youtube.

Now, I still use the fore mentioned, but have streamlined it to (mainly) the following: my Thai Language course, the Thai-English-Thai software dictionary, Thai for Beginners book /CD and Thai-Language.com. And, of course WLT has provided me with many free! methods of learning and improving my Thai. My husband (his classroom is the street) and I also share what we learn and talk a little Thai to each other at home. I'm sure it's quite entertaining for any flies on the wall.
Does one method stand out over all others?
No, I need bombarding from all sides: reading, writing, listening to CD's and videos, parroting and practicing what I've learned, out in the real world. The latter, for me, is the most difficult. I tend to say the words in Thai, in my head, but English comes out of my mouth when I'm put on the spot. However, I'm ever so slowly coming out of my Thai shell.
Have you started reading and writing Thai yet?
Yes, on my own, before I arrived in Thailand. I must admit I haven't progressed much since, but still continue to write most of my homework/notes in Thai, even though we're not learning it in class yet. I don't always know why I'm writing the words the way I am, but figure it can't do any harm…and besides, those letters are so cute!
If so, do you find learning to read and write Thai difficult?
Yes and I can't wait until we tackle it in class, because I've hit brick wall studying it on my own.
How long did it take you to pluck up the courage to actually try using your Thai skills?
Not long, I picked up a few limited phrases while on previous holidays and stuck to only those, for quite a long time.
How soon was it before you could make yourself understood in Thai (even just a little bit)?
It didn't take too long at all, but I do keep in mind that I live in a high tourist traffic area where our accents are probably understood better, than in more rural area. I reckon I'm understood about 80% of the time, when I have the nerve to speak in Thai, that is. The drawback with being armed with a little bit of knowledge is, that after saying a few sentences, locals start prattling back to me in warp speed Thai. Whoa there! Mai khao jai kha! Chan phuut phaasaa Thai nit nawy kha.

I've found that the vast majority of Thai people enjoy the fact that I'm learning and are happy to encourage me and play along.
What are your most embarrassing moments when speaking Thai?
I'm sure I've been unknowingly leaving a path of 'what the's?' and red faces behind me, but I do know I did ask our hotel door man "What is your Mother's name?" while pointing to our resident soi dog, one night. Yes, he still speaks to me.
What is the biggest misconception for students learning Thai?
I think that many new Thai language students get a little overwhelmed and disheartened when their progress is not as fast as they'd like it to be. Going to school won't make it happen automatically; you have to put in the hard yards.

Sure, use as many methods and or resources as you like, but for me, learning what I need to say on a daily/weekly basis, sticks best. For instance: telling the songthaew driver where I need to go and no, I won't pay triple the going rate; ordering food and drinks; telling my teacher what I did over the weekend…and now I'll never forget how to say 'my husband had an accident and broke a bone.'

And lastly, don't fool yourself. In order to learn it properly, you WILL need to learn to read and write Thai. So, the sooner, the better. Transliteration can only take you so far.
What was your first 'ah hah!' moment?
There's an 'ah hah!' moment? I look forward to it. Just kidding.

I think I've had more 'hah?' moments to date. However, I am beginning to pluck out words here and there, on occasion, and am able to respond in pigeon Thai.

Reading – it would have to be the day I understood a sign that said 'drink, no drive'.
How do you learn languages?
Gradually, using a combination of all of the above.
What are your strengths and weaknesses?
Weaknesses: Not applying the tones or speaking enough Thai.
Strengths: I'm fairly disciplined and self-motivated, so don't need to be pushed to learn.
Can you make your way around any other languages?
No, apart from tourist level, in which case I learn just prior to visiting that country.
Has learning Thai affected your knowledge of the other languages you speak?
Yes, I'm thankful I'm not Thai learning English.
How many foreign languages have you attempted to use?
Probably about five or six, at phrase book level, while holidaying and literally carrying the book around. When I was young, my Mum had us tutored briefly in Russian but our teachers were short lived for some reason and our lessons died a natural death. Yes, I'm half Russian, born in Australia. She spoke only English in our home, but Russian with her parents, so I grew up knowing some key words and phrases.
Are you learning another language at the same time as Thai?
Are you insane?
Do you currently live in Thailand, or have you ever lived in Thailand? If so, how long for?
Yes, I've been in Chiang Mai for over three months and hope to stay for another year. Prior to that, I'd only ever visited Thailand for about one month in total.
Are you a computer programmer, or do you have programming experience?
Programming no, but can and have built some primitive looking websites. I'm also a bit of an Excel nerd and enjoy graphic design software.
Do you have a passion for music and or do you play an instrument?
I wouldn't call it a passion, I do like a variety of good music though. As a child I (was forced to) played the piano accordion, for seven years…does that count as a musical instrument?

In hindsight, I'm grateful that I can still read basic music. Back then I preferred to play by ear, much to the sufferance and angst of my poor music teacher.
What learning advice would you give to other students of the Thai language?
Catherine, you once fantasized about inserting a computer chip into ones' head, which would enable one to speak fluent Thai instantly. We can only dream and wait for that day. In the meantime, keep plugging away at it. You'll be surprised at what you remember when push comes to shove. For me, studying small amounts frequently, rather than large amounts sporadically, works best.
What is your Thai language study plan for the next six months? The next year?
For the next six months and next year, it'll be more of the same, with a conscious effort to speak Thai more often. When I return to Australia, to maintain and continue to improve my level of Thai I also hope to Skype with English speaking Thai friends.
And the clincher: Do you agree to report back with your progress in six months?
But, of course!
Snap
Learning Thai In Chiang Mai | Cooee twitter: @SnapCooee



Getting by in Thai…
Thank you Snap, Talen and Greg. And for others out there – if you'd like be involved in the Getting by in Thai series, contact me. And please remember the clincher: the idea for the series is interview those getting by as well as regenerate an interest in learning Thai.