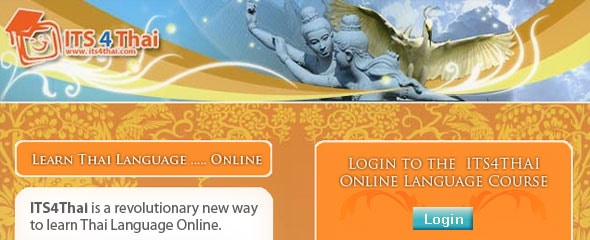 Learn over 2000 Thai words…
For months I've been meaning to write a review about ITS4Thai as it is a wonderful little program with a beaut of a price range.
Their recent press release was a reminder.
ITS4Thai has over 200 lessons that can teach you over 2,000 Thai words and 1,500 sentence combinations. Our lessons cover a wide range of every-day situations that are guaranteed to help you communicate with your Thai friends more easily.
We now offer three low-cost ways for you to become fluent in the Thai language.
You can:

Subscribe to all 200+ lessons for the low price of only 249 baht per month (US$6.99/month). This includes any future lessons that we create as well. You can stop your subscription at any time with no penalty.
Buy all 200+ lessons with no expiration date for only 2,900 baht (US$79.99). This includes the upcoming Thai Script Course 2. The regular price for these lessons is over 3,200 baht but you can save by buying the whole set.
Purchase individual courses for 199-499 baht (US$5.49-14.99) for 15-40 lessons in each course.
If you haven't been to ITS4Thai in a while, we invite you back to see what has changed. We are really looking forward to helping you learn to understand and speak the Thai Language at ITS4Thai.com.
I still plan on writing that review, but for now, enjoy…