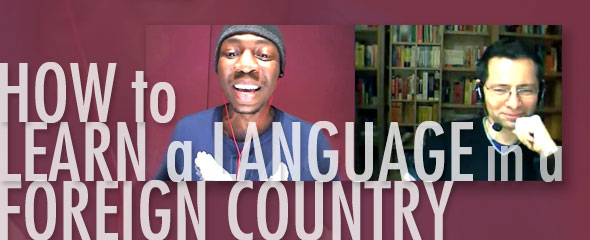 UPDATE: David Mansary has taken all of his videos offline. Pity. BUT this post is still worthwhile! Please read on…
Video: How to Learn a Language in a Foreign Country…
In David Mansaray's latest video he asks interpreter and translator Robert Bigler for his views on learning a language in a foreign country. In the video, Robert also discussed how he actively studies languages.
This is one of the best videos on learning languages. It's that good. Actually, this video is what I've come to expect from David. David's How to Use Motivation Effectively video is brilliant.
My original intention was to share only the bare basics but I found so MUCH good stuff I asked David for permission to post the full list. Thank you for your generosity David!
And while I'm handing out thanks, thank you for introducing us to Robert too. He's a jewel 🙂
In the interview Robert gives advice on learning resources. I've added top favourites for learning Thai to the post below. I could easily add more but I ran out of time. If you have other suggestions, please do share them in the comments.
For even more resources for learning Thai, go to WLTs FREE Thai language learning resources. If you want to read about the resources, WLTs check out Archives.
Talking points: How to Learn a Language in a Foreign Country…
Prepare yourself: get as much information about the country as possible, acquire enough of the language to have a basic conversation, be open-minded and interested in the language as well as the culture and people.
Learning resources…
The bare essentials: a good dictionary with sample sentences, basic grammar book, self-study course with dialogs, a good phrase book.
Instead of buying ten books and merely glancing at each, take one small book to focus on.
Dictionaries with phrases:
Domnern Sathienpong Thai-English dictionary (hardcopy with CD)
New Model English-Thai Dictionary ฉบับห้องสมุด (Set) (ปกแข็ง) (hardcopy)
P. Sethaputra English-Thai Dictionary of Contemporary Usage (paperback)
Thai-language.com dictionary (online)
Thai2English dictionary(online)
Dictionary:
Talking Thai–English–Thai Dictionary
Note: This dictionary doesn't have sentences (yet) but it's still the best dictionary on the market.
WLT: Android and iPhone: Talking Thai-English-Thai Dictionary Review
Grammar books:
Thai: An Essential Grammar (hardcopy) and Kindle edition
Thai Reference Grammar: The Structure of Spoken Thai (hard copy)
WLT: Review: A Guide to Thai Grammar Books
Self-Study courses:
Essential Thai (hard copy)
FSI Materials: Thai Language Wiki
Glossika Thai
ITS4Thai online
ITS4Thai iOS apps
Jcademy: Cracking Thai Fundamentals (online)
Teach Yourself Thai Complete (hard copy)
Thai for Beginners (hard copy) and iPhone, iPod Touch & iPad App
Thai language products at Paiboon Publishing
Learn Thai Podcast (online and iTunes)
L-Lingo Thai (online) and iOS iPad
WLT: Cracking Thai Fundamentals: Thai Bites
WLT: David Smyth Updates Teach Yourself Thai
WLT: FREE Download: Glossika Thai Fluency 1 GMS and GSR
WLT: ITS4Thai DRAW + iPhone and iPad Review
WLT: Thai for Beginners iPhone App
WLT: Review: Learn Thai Podcast Relaunches!
WLT: Using the Assimil Method with Essential Thai
Phrasebooks:
WLT: iPhone Apps: Thai Language Phrase books
WLT: Thai Language Phrase Books: A Mega Review
Natural materials…
Start with natural material as soon as possible: radio programs, newspaper articles, magazines, on subjects you are interested in.
Radio:
Cat Radio
Surf Music: Thailand
Thailand Radio Stations
Radio Thailand and Thai TV & Radio Pro (iOS apps)
Paul Garrigan: This is the Sound of Thailand
Newspapers:
Onlinenewspapers.com: Thailand
Learn how to read Thai newspapers at Paknam Forums
Learning from the news > Learn Thai from the Bangkok Post
WLT: Free Download: Advanced Thai Reading and Vocabulary Building
WLT: Learn Thai from the Bangkok Post
Thai TV:
FukDuK.tv (offline for now – will be back)
Thai tv Online
Frequency lists…
Use frequency lists. The same 3-4000 words come up all the time. Learn them. Work with them. If you don't understand something, ask people to explain.
Chula University: 5000 word frequency list (no longer online at Chula)
You'll notice that Chula's list is all in Thai. When I asked Mark Hollow (programmer) about the English he graciously created several versions for download.
WLT: Thai Frequency Lists with English Definitions
Words, phrases, conversations…
Learn phrases you'll use in discussions pertinent to your life: who you are, where you are from, what you do, how old you are, etc.
Have a basic set of structures: how to say what happened in the past, what is going on right now, what's going to happen in the future.
Anticipate likely conversations, prepare your replies, talk to yourself in the foreign language, rehearse as if you are on stage.
When preparing for conversations on certain subjects write down repeatedly used words and expressions. Go through them. The words you lacked in previous conversations are the words you need to focus on.
If you hear a nice expression use it in your next sentence. Make sentences out of the words you've just heard.
When you have problems with expressing yourself, immediately look it up. If there is something you cannot say because you don't know the word, look up that word.
Don't learn words on their own without context. If you learn them in context you will get exposure to the words and structures. Exposure is the key.
You don't need a lot of material but you have to be able to reproduce them automatically so it's essential to actually speak the language. You need to get used to talking. Your muscles need to be trained.
How to listen…
Be a good listener. You will benefit from the wealth of knowledge received from the person you are talking to.
To get into the flow of the language listen to audio. Get a lot of exposure by listening. Listening helps to practice the language passively. Listen carefully and attentively. Don't listen in the background.
Audio:
Glossika Thai
Self Study Thai: Audio, transcripts, English translations and flashcards from VOA
Thai Recordings: Five minute audio clips with transcripts for intermediate learners of Thai
WLT: FREE Download: Glossika Thai Fluency 1 GMS and GSR
WLT: Free Podcasts in the Thai Language
WLT: ดึงดูดใจ: Thai Lyrics and Translations
Create a natural environment…
Create a natural environment by getting involved in discussions of interest on TV and radio. Sitcoms are a great way to get use to structures that come up in everyday conversation. If you lack the words to get your point across in your fake conversation, look them up. Keep talking. Say something like, "I'm sorry I have to look up the word".
Thai videos on YouTube:
Andrew Biggs on YouTube
Andrew Bigs: Easy English
Adam Bradshaw's YouTube Channel
AUA: Learn Thai Language Videos
ฝรั่งป๊อก ป๊อก Farang Pok Pok (search for other episodes)
WLT: AUA Thai Videos on YouTube
WLT: Thai Movies: A Relaxing Way to Study Thai
Tips on reading, writing, speaking…
Writing and reading is the whole package. When it comes to internalising grammatical structures and vocabulary, writing does a lot.
Write by hand, not by using the computer.
Copy books. Look at the words. Really get involved. Read the sentences out loud. Write them. Look at them. Get embedded in the language environment.
Speaking and reading:
AUA Thai: Reading and Writing videos
Learn2SpeakThai: Learn Thai with Maanii Books
Slice of Thai: Voice Viewer
Thai Reader Project
WLT: Andrew Biggs is Tongue Thai'd on YouTube
WLT: AUA Thai: FREE Reading and Writing Videos
WLT: Download 12 FREE Manee Books
WLT: Free Online Thai Readers
WLT: FREE Resource: Thai Reader Project
WLT: Thai-English Readers with Mp3s
WLT: The Easy Way for Beginners to Read and Write Thai
Language exchange…
For language exchange using email, you both choose the topics you are interested in. Each prepares text. Each corrects the other's. You have the time to work with whatever tool you feel comfortable with (a dictionary, sentences from books, etc).
ALG Crosstalk Project: Bangkok
WLT: How to Learn Thai via Skype: The Series
WLT: Online Language Exchange Partners
Meeting native speakers…
When going abroad for an extended period of time, try to meet people by: joining clubs, fitness clubs, playing sports, and doing volunteer work.
Volunteer work is the best way to actually live with the people and not just beside them or next to them.
Be honest enough to tell people that you appreciate being corrected. Encourage people to correct you. Ask them to help you out. But also ask them not to judge you. There is a major difference between correcting somebody and judging somebody.

But it's not the mistakes you should be worrying about. It is not being told about your mistakes.
It's very important, especially in the beginning stages, that you meet someone you feel comfortable with to talk to.
When you get to the stage where you are open enough to actually learn from others without feeling bad for making mistakes, then you will be really successful.
Making progress is why it's very important to have somebody around you who is understanding, but is also honest enough to actually tell you what you are saying wrong.
How to deal with communication snafus…
There will be moments of frustration, even when you believe that you are well-prepared. When this happens, don't give up. Keep practicing.
You will make a lot of mistakes and at first might not understand much of what they are saying. When you make mistakes ask people to help you out.
When you struggle in conversation, once back at home get out your dictionary and turn to the subject at hand.
A final word from David Mansaray…
When it comes to spoken language people are willing to let some things go, but when it comes to writing people are a lot more sensitive to mistakes. They are going to be a lot more honest when correcting your mistakes. Writing is a great tool for the shy because you don't have to immediately deal with that confrontation, you can look at your own mistakes to see where to improve.
It's really important to have someone that you trust to help you with your language. Who you practice language with is also very important. When going through the stages you can be physiologically fragile. If you are not corrected in a friendly way then you can lose confidence in yourself, and that can make you retreat.