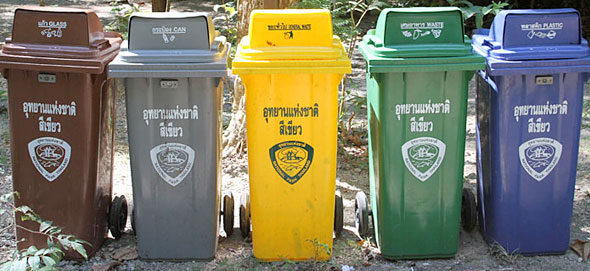 How do you focus on learning Thai?..
During the past week my Internet connection has been getting weaker, to the point that I could no longer code. And I had a big, fat, overdue post to finish this weekend, the February edition of 'Who's Talking About Learning Thai'. Ouch.
But it's not just the posts that are overdue. Projects are piling up and my Thai lessons are disgracefully lagging behind. I've always been bad organising study time and life keeps digging me a bigger hole.
Now here's the thing. My computer holds all my stuff. Loads and loads of stuff. Photos, books, dictionaries, software… I'm sure you have stuff too so you might know what I mean.
Bottom line: On my computer I have a mountain of work needing to get done… and my Thai lessons. And both are fighting for equal attention.
My Buddy Scott came up with a solution – buy the nifty new iPad and transfer my Thai lessons over. Bingo. Problem solved. And well, ok. That was boldfaced lie. He didn't come up with the idea but he did get me thinking about an excuse to buy even more digital kit. But… the iPad is already in the US but it won't arrive in Thailand until goodness knows when – October? – and I need a solution now.
And I believe I found just the one…
Do you have a Mac? Well, if you go up to System Preferences >> System >> Accounts >> and click that little plus on the bottom left you can create what is basically a new start in life. And that's exactly what I did. It wasn't totally smooth sailing because getting used to switching between two accounts slowed me down. But this morning while my Internet was chocking and then going cold stone dead, I was busy creating a home away from home in my very own home.
Just check it out… below is what my regular desktop looks like (and please don't say to clean the mess up because I NEED all that stuff at my fingertips).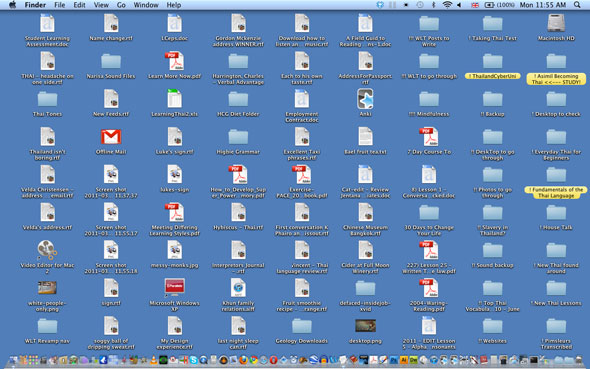 And here's what my new learning Thai desktop looks like (I'll change the background photo later).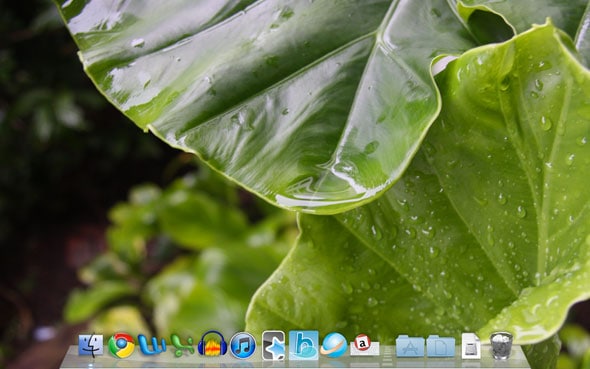 There is no twitter, no Facebook, no emails, no blogs to read, and no folders full of jobs to complete. By clicking the Finder I can see the folders on my work machine but I can't edit anything. In the shared folder are my Thai lessons, all ready to go.
Going from left to right on the bottom bar: The Finder, Chrome (for downloading software updates and naught else), Word and Excel (Thai lessons and vocabulary lists), Audacity (listening to sections of Thai audio), iTunes (Baroque music and Thai audio and podcasts only), Anki (for the odd vocab list), BYKI (growing bulk of my Thai lessons), L-Lingo (review), TypeTrainer4Mac (for needed typing practice). And the rest on the bar are functional necessities.
To switch between accounts I just log out of one and into the other. And while it's a simple switch, it's a big enough pain to make me think twice about getting distracted, away from studying.
So from now on there will be no more answering emails, writing posts, reading blogs, and doing projects first thing in the morning, only to resurface when most of the day is gone. From now on it's Thai lessons first, and the rest of my life later.
I don't have a clue how PC's work or if they have something similar to this. Do they? And one more question – do you have any tips for keeping your computer life uncluttered? Enough to get to Thai studies? I'd love to hear them if you do.
Edit: If you know of someone coming from the US… I'm still game for an iPad 😉