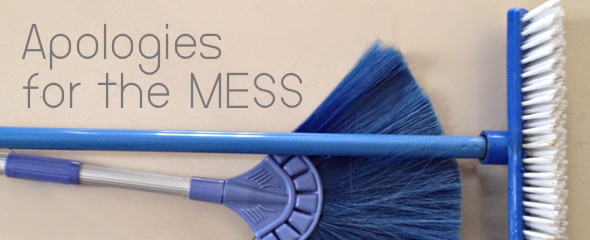 You have my apologies…
Over a month ago I started housecleaning on WLT and I thought I'd be done by now. Apologies. I should have warned you sooner. The site is over six years old and there's 600 plus posts to make right. This is my to-do list so far:
Remove dead links.
Remove links that go to smut sites.
Remove links that go to parked pages.
Create a proper automatic archives.
And update that darn audio player.
The Broken Link Checker WP plugin was a huge help with dead links. WHY I waited so long to add it, I'll never know. Fixing six years of broken links all at once was a pain.
Broken Link Checker isn't a miracle worker as it doesn't tell me about links that no longer go where they are supposed to. The sneaky buggers are going to smut sites, parked sites, and China. Unless someone here knows some magic, errant links can only be discovered by clicking on link after link.
The main problem you might experience personally is the editing of audio players. My previous plugin didn't work with iStuff so I stripped off the code and went with the new WordPress player. Problem is, it's butt ugly (if you poke around today, that's mostly what you'll see).
For weeks I played around with audio players and finally settled on one. But, after recoding a part of the site, iOS 8 came out today and it no longer works. Back to the beginning. Again!
I'm now recoding the audio links using the Haiku minimalist audio player. When you have as many audio files per page as WLT has, the design for Haiku is overwhelming. CSS tweaks will need to be made (and hopefully you won't notice).
Anyway, as there are other fixes in the wings, I don't know how long it'll take to make everything right. Apologies. I'll get it done as fast as I can.
Oh. And if you come across links acting badly, please do drop me a line. Thanks in advance!