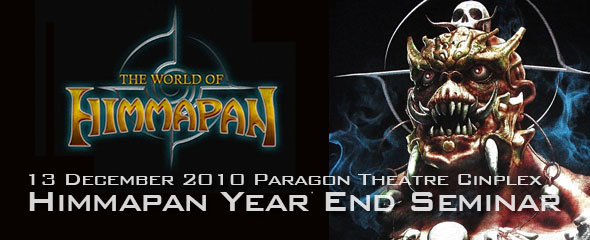 The Himmapan year end seminar…
This is so very wrong, as it should have been a WOW already… When researching Singha beer, I came across Himmapan, a beautiful resource put together by Mr. Yongkiat Karnchanapayap, Mr. Yongkiat, Ms. Onuma Chintanasatit and Mr. Vytot Upatising.
After finding their site I was going to WOW you with how the Singha logo connects with the Himmapan forest. And as some might not know anything about the Himmapan Forest, I was going to WOW you with that too.
I even contacted Yongkiat Karnchanapayap to see what else they were up to, and he pointed me to the beautiful work shown on their Facebook page: Himmapan. Another WOW.
But this year has been strange so all I can do is apologise to Yongkiat, his gang, and you. And while I'm at it, I'll light a candle for 2011.
Now, as a Himmapan Facebook fan I get updates. So far they've had one popular seminar and are planning for another. And if you are into the beautiful art of Himmapan (more on that later), then please sign up for their end of year seminar. But you'd better be quick as it looks like standing room only (and the free t-shirts are already a toss up).
If you do go, please tell Yongkiat that I sent you. And that I really really really would love it if they created a set of Himmapan coffee mugs.
And please tell him that I still have a post in the wings about the Himmapan Forest and Singha and prancing tigers with goats bodies and all.