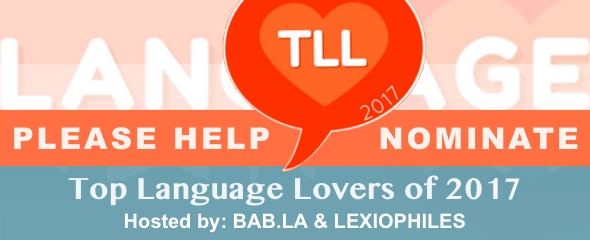 For the TENTH year running, BAB.LA & LEXIOPHILES are hosting their inspiring Top 100 Language Lovers 2017 (#TLL17) Competition and need our help.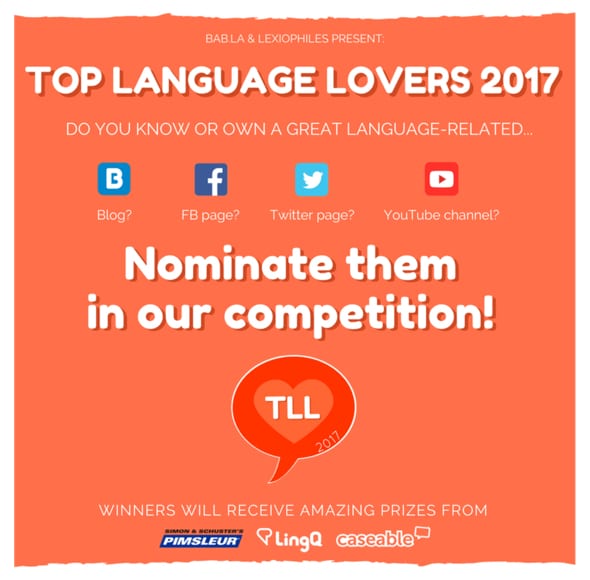 Last year's participants will be automatically nominated. Take a peek at last year's competition here: TLL 2016.

The blogs and social media channels can be nominated in the four following categories:

Language Blogs: blogs about the language learning process, language enthusiasts and blogs by language professionals.
Language Facebook Pages: Facebook Pages dealing with language topics, such as dictionaries, translation tools, language lover communities, etc.
Language Twitter accounts: Twitterers who create and share content about languages.
Language YouTube channels: YouTubers vlogging about languages.
The nominations are open from May 04–15. Voting starts on May 17 and ends on June 06. The results will be announced on June 09. Exciting stuff!
After placing last year, WLT has automatically been entered. But, if you know of any other blogs, Facebook pages, twitter accounts or YouTube channels, please show your support by nominating via the doc HERE.
HINT HINT … it'd be especially great if they have a Thai language focus 😉
If you have one of the language resources mentioned and are wavering about entering the competition, just let me say that it's been great experience. This will be my eighth year participating and each year it has inspired me to improve WLT. Whether a new site design, additional guest authors, free downloads, giveaways and draws, all have made this site a better resource for learning Thai.
Good luck to everyone who is joining the competition this year – it's guaranteed to be loads of fun!