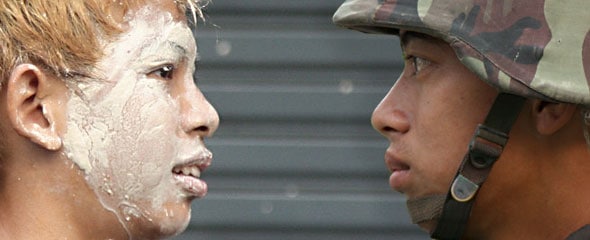 Talk about bad, bad, timing…
Last month, with Songkran in mind, I slogged away on a Thai language phrase book series for tourists as well as Thai language learners. In hindsight, I can absolutely see that Red Shirts running riot through the streets of Bangkok would be a perfect setting for this series.
To prepare, I stayed almost a week at an obscure Thai island with a handful of phrase books. After that experience, I went phrase book buying crazy. Totally ready, I wrote a half dozen posts, then started dribbling them out.
Travelling with Thai Phrase Books was up first. Using Thai Phrase Books came second. And we all know what came third.
The madness of Songkran 2009…
If you've been following WLT, you'll know that Thailand is having a bit of a political kerfluffel. If not, here's a brief timeline:
Siam Trading Post (no longer online: On March 26 the UDD Red Shirts began this protest campaign against the current Thai Government: Rallies and protest continued in Bangkok as the Red Shirts tired to get the Government to agree to their demands… April 8 comes and over 30,000 red-shirts rally at Government House, and make this their main protest site… Taxi drivers loyal to Thaksin and his Red Shirts block the main roads and Victory Monument, on April 9, which brings the city to a halt… By April 10 the protesters are firmly spread out across Bangkok… By Saturday April 11 Thousands of Red Shirt protesters had arrived in Pattaya and were ready to take action against the (Asean) summit… A state of emergency is declared and foreign leaders were evacuated, some by helicopters flown to the roof of the hotel…

On April 11, the Bangkok Post wrote "Forget the crisis; enjoy Songkran".
Forget about the political chaos and economic downturn for a while. Instead, recharge your batteries with the many fun and affordable activities going on during the upcoming Songkran Festival.

That very same day, not feeling up to celebrating Songkran, I posted smiling faces in Red Shirts Yellow Shirts or Thailand (the full sized photos were later uploaded to Red Shirts).

By early that afternoon, the festive plans changed when it was announced that Songkran ends early at Khao San Road.
Surat Vongchansilp, president of the Khao San Road Business Association, said that he had announced to tourists and local visitors to end their Khao San water splashing activities and go home, as the political turmoil continued.

A good thing Bangkok's celebrations were postponed as the Red Shirts were not yet done.
Siam Trading Post (no longer online: On April 12 a state of emergency is declared in Bangkok and surrounding areas. Red Shirt anti-government demonstrations spring up all over the city, the military move into Bangkok in force and the stage is set for major conflict.

On the morning of April 13, after reading about the Red Shirt's dispersal, I decided to see the lack of Red Shirts at Victory Monument for myself (yeah, I know, don't believe everything you read). After finding Red Shirts, the army, and no smiling faces, I left. You can see for yourself what I missed avoided:
Afternoon – Attack at Victory Monument. The following day, after the army flexed their muscles all over Bangkok, the Red Shirts started waving flags of white.
Siam Trading Post (no longer online): Thousands of demonstrators who retreated to their main camp outside Government House on April 14 and leaders of the protest agree to disperse in the face of overwhelming military operations. Protesters are allowed to leave and offered bus rides home, most live many hours outside of Bangkok.

And the Songkran celebrations were back on again when the Khao San water fun was extended.
Water celebrations at Khao San road and RCA in Bangkok have been extended to Friday after the government announced it was adding two days to the Songkran holiday for the civil service sector.
With the Red Shirts in the background, I expected at least a bit of party hard madness. Instead, I was treated to good but calm fun. And now I know why…
Khaosanroad.com: The authorities are continuing their push to make Songkran safer and more sedate. The aim is noble – to reattach the festival to its roots as a time for family reunions, merit-making and respecting elders. Yes, you can still throw water and have fun… but this year high-pressure water pistols or PVC pump guns are banned – outright.
Next up: What's This About Songkran?