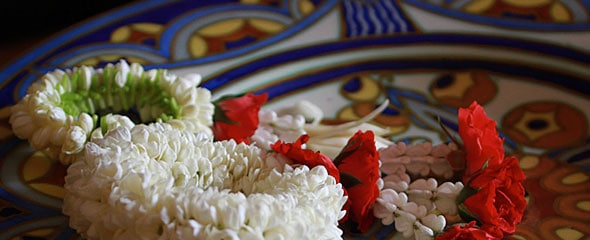 Happy Mothers Day from Thailand…
Did you know August 12th is one of the most revered days of the year for Thai people?
As a young child I can remember celebrating August 12th by making a present for a special visitor to my school.
And when the day finally arrived each of us students had a special guest at school.
Our own Mothers greeted us as guests at school and received our creations with tears in their eyes.
What's so special about August 12th?

Advertisement
It's Mother's Day in Thailand.
You might wonder why Mother's Day is so important to Thais. After-all, Western countries have Mother's Day too.
The difference is in the social structure of the family. Thai children are taught to respect their parents and to be prepared to take care of their parents in their old age.
This is a task they take on willingly and lovingly. There is nothing a Thai person wouldn't do for their mother.
In 1976 the Thai government decreed August 12th (The Queen's Birthday) to be Mother's Day.
In addition Jasmine was chosen as the symbol of Mothers Day in Thailand.
Why Jasmine?
Because it's pure white color and angelic aroma signify the love a Mother has for her child.
As students the reverence for our Mothers is reinforced.
I was given white paper in school to create a jasmine flower for my Mother.
Like most Thai children, it would have been much too expensive for me to purchase a real Jasmine flower for my Mother. The bonus is she can keep it a little longer too!!!
Then, on Mothers Day, our moms visit the school.
Thai kids are very shy and I had to build up a lot of courage to give the flower to my Mother and bow at her feet. But it was all worth it when I saw she had tears in her eyes. I knew she was emotionally touched.
Thais even have a Mothers Day song. It was written by Paiboon Butkan, who's beloved Mother took care of him even though he had leprosy.
Others stopped going near him but his Mother would not abandon him.
The song is very popular, you hear it wherever you go: television, radio, etc. The children practice it at school.
Every Thai knows this song by heart. It's imprinted on our hearts. It touches us deeply. In its translated form it uses Mother's milk as a euphemism for the lifelong care you receive from your Mother. Here it is:
Value of Breast Milk ค่าน้ำนม /kâa náam nom/…
แม่นี้มีบุญคุณอันใหญ่หลวง
mâe née mee bun kun an yài lŭang
Mother is the greatest benefactor…

ที่เฝ้าหวงห่วงลูกแต่หลังเมื่อยังนอนเปล
têe fâo hŭang hùang lôokd tàe lăng mêua yang non bplay
…who has been cherishing us since we were gently rocked in cradles.

แม่เราเฝ้าโอ้ละเห่
mâe rao fâo ôh lá hày
Mother soothes her babies to sleep with lullabies…

กล่อมลูกน้อยนอนเปลไม่ห่างหันเหไปจนไกล
glòm lôok nói non bplay mâi hàang hăn hăy bpi jon glai
…and never leaves us alone.

เมื่อเล็กจนโตโอ้แม่ถนอม
mêua lék jon dtoh ôh mâe tà-nŏm
Since our childhood, a watchful eye of mother has been kept on us.

แม่ผ่ายผอมย่อมเกิดจากรักลูกปักดวงใจ
mâe pàai-pŏm yôm gèrt jàak rák lôok bpàk duang jai
Her weight loss ensures the wholehearted love she has.

เติบ โตโอ้เล็กจนใหญ่
dtèrp dtoh ôh lék jon yài
What else could be the reason for how we grow up today…

นี่แหละหนาอะไร มิใช่ใดหนาเพราะค่าน้ำนม
mêe làe năa a-rai mí châi dai năa prór kâa náam nom
…other than the breast milk.

ควร คิดพินิจให้ดี
kuan kít pí-nít hâi dee
Take into consideration…

ค่าน้ำนมแม่นี้ จะมีอะไรเหมาะสม
kâa náam nom mâe née jà mee a-rai mòr sŏm
…what else could be comparable to the breast milk.

โอ้ว่าแม่จ๋า ลูกคิดถึงค่าน้ำนม
ôh wâa mâe jăa lôok kít tĕung kâa náam nom
Mother, I miss the milk you once breastfed.

เลือดในอกผสม กลั่นเป็นน้ำนมให้ลูกดื่มกิน
lêuat nai òk pà-sŏm glàn bpen nám nom hâi lôok dèum gin
The bloodstream of hers turns into milk for us.

ค่าน้ำนมควรชวนให้ลูกฝัง
kâa náam nom kuan chuan hâi lôok făng
The value of breast milk will be every child's lasting reminder.

แต่เมื่อหลังเปรียบดังผืนฟ้าหนักกว่าแผ่นดิน
dtàe mêua lăng bprìap dang pĕun fáa nàk gwàa pàen din
It is compared as the far-flung sky and heavier than the earth.

บวช เรียนพากเพียรจนสิ้น
bùat rian pâak-pian jon sîn
No matter what we have done and how hard we have tried…

หยดหนึ่งน้ำนมกิน ทดแทนไม่สิ้นพระคุณแม่เอย
yòt nèung nám nom gin tót taen mâi sîn prá kun mâe oie
…nothing can compensate for one drop of milk and the kindness of mothers.

Every time this song comes to mind I get a big lump in my throat and a tear in my eye. Now it's my turn to support my mother and I do it just as many Thai have for ages.
I'm often asked by my students, "Why do I have to support my Thai girlfriend's mother?"
The answer is: That's the Thai way. Our elderly relatives have always been taken care of by their families. As the song says, "Nothing can compensate for one drop of breast milk and the kindness of mothers." We feel like, whatever we do for our mothers, it won't be enough to make up for everything she has done for us.
I would like to credit this post to my Mother. She has been a single mother of two and she put everything she had into raising me and my brother. I wouldn't be who I am today without her.
Btw: If you want to Learn Thai Mother's Day Song, you can do so on my site.
Happy Mothers Day from Thailand!
Mia Rongsiaw,
Web: Learn2SpeakThai | Youtube channel: learn2speakthai | twitter: learn2speakthai