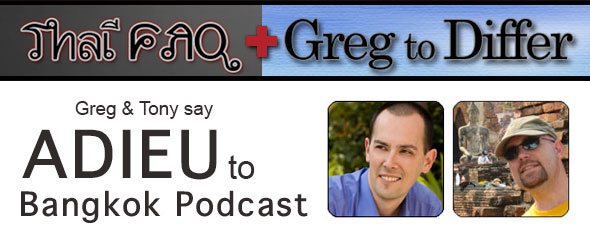 Saying adieu to Bangkok Podcast…
Yup. A shocker-roonie. The wonderful Thai language resource Bangkok Podcast is closing its doors (for now). But even though Bangkok Podcast will not be updated in the near future, it will continue to be available for students of Thai. And that's a good thing from my end, because I haven't had the time to listen to the many fabulous interviews.
I could be wrong but I don't believe Bangkok Podcast was originally set up to be a Thai learning resource. But with all the wonderful interviews dealing with learning Thai, it turned out that way. In the very beginning Greg and Tony were able to rope in Rikker (Thai 101) to jump-start the Thai Language Series, paving the way for others to follow.
Curious, and wanting to give a proper send-off, I contacted Greg and Tony for a Bangkok Podcast wrap.
Greg on Bangkok Podcast…

The podcast has been a great experience. I'm proud of it, and happy that Tony and I started it up. When we began, we didn't have much info on exactly what we were doing – we just kind of did it and figured it out as we went. There were some problems here and there, mostly with sound or equipment issues, but with the help of some very nice friends we managed to get things sorted out more or less.

The biggest thing I took away from the show was the amount of interesting, cool people we met. Not just the guests, but at parties and events that we held as well.

We were lucky to have an amazing run of guests on the show too. Business owners, celebrities, journalists, ambassadors, politicians, and monks were all kind enough to come on the show and talk about their life. I think both Tony and I can say that we genuinely enjoyed talking to every one of them; they all had interesting things to say and a great story to tell.

It's a bit sad that we're closing down, but with Tony moving away and me becoming busier and busier as I approach my wedding, we just don't have the resources to keep it going. I don't think many people understand the amount of work it takes to put a podcast together (why would they?). Between planning, traveling, recording, editing, and posting, I'd say each episode takes about 8 hours to assemble, give or take. That's a lot of work in a week, especially when you're not getting paid (this was another problem – despite our large local and international audience, attracting sponsors was difficult, as a large percentage of people in Thailand have no idea what a podcast is).

At any rate, I don't regret the time at all – it was a great experience and (usually) very fun to put together. We will keep the site around for now – who knows, we may even find time to do a few special episodes in the future.
Greg Jorgensen
GregToDiffer.com | BangkokPodcast.com
Tony on Bangkok Podcast…

For the Thai language guests we first started off with our good friend Rikker who delved into various aspects of the language, from learning style to history, etc. With our other guests we always tried to pick someone who could bring something new to the show, perhaps they learned Thai in a unique way.

The one thing I noticed from all of our Thai language guests is that they all genuinely seemed to enjoy learning the language. For them it never seemed that they were forcing themselves to study but rather sought out opportunities to learn the language wherever they could.

All of them agreed that learning to read and write is the first critical step in becoming fluent. As soon as you can start to read the Thai around the city your comprehension will move much faster. Working at it everyday all of our guests indicated that they become conversational within about a 2 year time frame.

It was my hope with the language series to provide the motivation and knowledge to learn Thai to anyone who is studying now.
Tony Joh
thai-faq.com | BangkokPodcast.com
And now we say Adeiu…

As Gregg mentioned, they had a great time meeting actual people at their Bangkok Podcast parties. I can see Tony stopping by on the odd occasion so this might not be the last BP party, but it's certainly the the first farewell – and you are all invited.
Bangkok Podcast Farewell Dinner
Time: 10 September · 19:00 – 22:00
Location: Basilico Pizzeria, Sukhumvit Soi 33, Bangkok, Thailand
PS: I won't attend but those who do will have an interesting time. Guaranteed.
EDIT: Just in case you missed it, here's the excellent Thai Language Series at Bangkok Podcast.