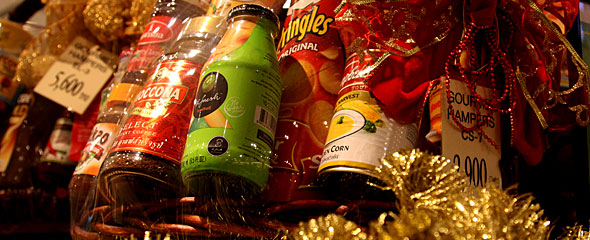 Ho ho ho… where's the snow?…
Christmas in Thailand can be quite odd (but it is a nice odd). From November to December (and June even) it is quite possible find overheated Santas wandering around downtown Bangkok, reindeer fighting with elephants for sidewalk space, and Christmas carols blasting from tuk tuks.
The Thais go out for Xmas in a big way. In some shops in Bangkok, the decorations are exactly like in the west. In fact, I went around taking photos of the decorations, but as they could have been taken anywhere in London or New York, I'll pass on posting.
An area where the Thais add their own twist is with gourmet holiday hampers. And on a trip to Paragon, I picked up a catalogue of fun.
Blissful Hampers
Pure Love • Pure Bliss • Pure Happiness

It's once again time of the year and the mood for celebration is in the air. To help facilitate your gift selection, Home Fresh Mart and Gourmet Market have prepared a wondrous array of wonderful gift hampers for you to choose from to best suit individual receivers.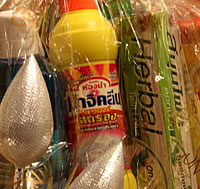 When I was growing up, each year we'd receive holiday hampers from across the water. In jest, my parents called them care packages.
The baskets were filled with pâtes, hams, cheeses, olives, spreads, spicy mustards, crackers, biscuits, chocolates, and hard Xmas candies. Savouring the foreign flavours was a culinary education (one we three fought over each year).
In Thailand, along with the bog-standard hampers, you can get baskets filled with washing up liquids and cleaners, Hormel products (cans of spam and corned beef), and even baskets filled with tooth paste and mouth wash.
But no alcohol (I am told that it is a new western thing).
The Thai ruling against alcohol in gift hampers came out this year:
Penalties for alcohol in gift baskets. Director for the Thai Health Promotion's Centre for Alcohol Studies, Thaksaphon Thamarangsi, said yesterday the National Committee for Alcohol Consumption Control gave a warning on October 8 that alcohol was banned from New Year gift baskets.
Sigh. I wonder how long it will be before Thailand's Thainess disappears; all this mirroring of the west can't be good.
Some western rules make sense – seat belts in back seats for one – but ruling against alcohol in holiday hampers?
Anyway, if you have a hankering for a Gourmet Holiday Hamper, contact the numbers below to get a catalogue of your own.
Emporium: 0-2363-3035
Paragon: 0-2690-1225
Note: For baskets over 12,000 baht, free delivery is available in Bangkok. If you spend 200,000 baht and over, you get 31% off your purchase. But if you can't afford to pay up front, you can always arrange for six month installments.