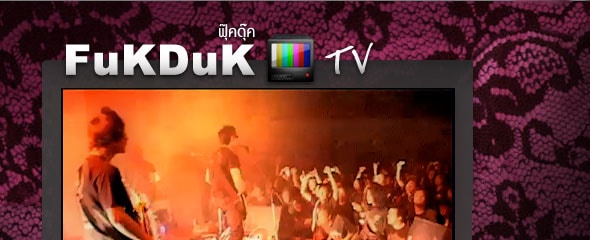 UPDATE: FuKDuK.tv is offline (for now)
Fancy your next Thai lesson on 'Speed Metal Thai'? On how glass bottles are made? Fashion tips? A visit to the Bangkok Seashell Museum? Cooking sessions? Looking graffiti artists over the shoulder? Yes? Then stay put!
Automatic Language Growth…
The way children acquire their native tongue is perfect: it always results in fluency. Automatic Language Growth (ALG) is an approach to language learning based on the conviction that adults can achieve native-like fluency as well – by doing what children do. ALG believes that language is acquired naturally by having experiences in the language. Concrete happenings that involve objects or activities, maybe emotions, often interactions, sometimes smelling, tasting, or feeling. And language. But that's not necessarily where the focus is. The focus is on the happenings in general, on the experience. Language is picked up naturally, as are social and cultural norms, and, more generally, knowledge about the world.
ALG also believes that most of the things adults usually do when they 'study' a language are counterproductive. Grammar, pronunciations drills, language analysis, memorizing word lists, translation, you name it. And, quite importantly, early speaking. Toddlers don't do it, and ALG suggests adults shouldn't do it either. Not for the first year or so, or the first 800 hours.
There's a simple principle behind these ideas: you need to firmly establish language patterns before you can use them correctly. And you establish these patterns by observing them over and over again in different circumstances, not by producing them.
The ALG approach is used in the Thai program at AUA Ratchadamri.
Internet TV for REAL – FuKDuK.tv…
FuKDuK.tv is an internet TV project run by a group of young Thais. The company went live in October 2007 and offers currently 28 channels. Each channel has a theme and posts video clips on a regular basis. The clips are between a few and 30 minutes long and are offered in various media formats. You can download all current and previous episodes from their server. In April 2010, there are almost 1200 clips with more than 250 hours of footage.
Many clips on FuKDuK.tv are ideal from an ALG perspective: they present real experiences containing natural conversation, they offer a lot of visual clues that help you guessing what's going on, and there's no focus at all on anything related to 'language study'. Just sit back, enjoy the stories, watch, guess, and let your subconscious do the learning!
In the remainder of this section, I'll introduce most channels and suggest a few episodes to watch. The links provided take you to pages where you can choose your preferred format. On my mac, mp4 works fine (and these are the only ones I've checked out), but you might have to choose something else. I need to download the files first in order to watch them without interruption, but that might be just my internet connection.
Channel 3 is a good place to get started. Episodes in this channel explain how things work: a visit to a glass bottle factory and a Thai explanation of the Christmas tree. What happens in a tattoo studio? How does a printing press work? And, and, and… Channel 4 presents sights: the Bangkok Seashell Museum, a doll museum, or a visit to a shadow play performance. Channel 7 is on food and places to eat: watch the preparation of a specialty from Surin province, or check out the many restaurant reviews like this one.
Channels 3, 4 and 7 are really good for beginners.
Channel 8 is on Apple and Windows. Watch this hilarious iphone parody between minutes 2:20 and 5:20! Need some inspiration for taking pictures through windows and mirrors? Then check out channel 10 on digital photography for this and much more. Get fashion tips on channel 11, or just join the presenters shopping for bags and jackets at Bangsaen Walking Street.
Exercise when you're pregnant? Get some advice on channel 12, which is on health related topics. Channel 13 is on ecology: visit a village on a reservoir lake or a biogas farm. In channel 15, the presenters visit private homes. Check out this guy's taste (and pay special attention to his shoes!) – he must be some kind of star, or visit furniture show rooms (great for beginners).
Sick of sugar-sweet Thai pop? Give yourself a break with some serious head banging to Speed Metal Thai. That's channel 16 on Rock and Metal. You wouldn't expect it, but even this channel is a great resource for learning Thai. Watch an interview on American rock music history here (starting at minute 5:30). Channel 18 is on sports. Try a personal trainer in a fitness studio, or enjoy this cute episode on a 'stacking' competition.
Fancy fast cars? Check out channel 23 with documentaries on the Toyota racing school or the Bangkok international motor show. Channel 26 is on team activities, or something to this effect. There are episodes on the fire brigade (1 & 2, with 2 being the cooler one – you get to climb the big red car!), graffiti artists and a bowling place. Channel 28 is on everything design-related. Have a look at these lamps, or check out a bamboo-inspired architecture project.
Channel 2 has episodes on buddhism, the king, traffic regulation and drug laws. There are episodes on a collectible card game on channel 6, channel 9 is on Ubuntu, channel 14 on short films. Channel 17 discusses legal matters in a, let's say, unusual way. If you're not into 'Speed Metal', have a look at channel 19 covering traditional to folk to pop. Channel 20 is anime, channel 21 is on Muay Thai, channel 22 on business. Art is on channel 24, and pets are taken care of on channel 27.
Thai language, Thai culture…
You don't need to believe in ALG or become a Metal convert to benefit from FuKDuK.tv in your Thai studies. FuKDuK.tv is a treasure trove full to the brim with authentic material on contemporary Thailand and it's culture. Enjoy!
Andrej,
Learning Thai and experimenting with ALG for independent learners at 'Bakunin Learns Thai' (no longer live)