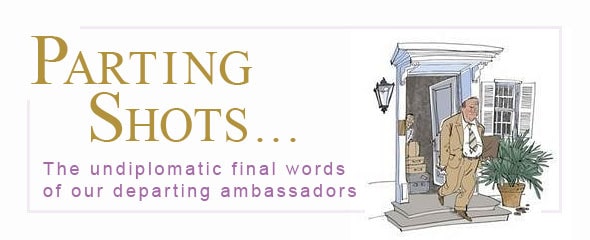 British Ambassadors going out with a bang…
Going around the Thai expat community this week are scans from Parting Shots, a collection of parting comments from British diplomats. Diplomatic opinions such as these were popular with expats when I lived on Borneo, and back even further, when I lived in France (only via snail mail, not email). And they were often sorely needed.
Parting Shots, by Matthew Parris
When leaving a foreign posting, Britain's ambassadors were encouraged to write a valedictory despatch until the practice was abolished in 2006. Unlike the usual style of the diplomatic bag, these last reports from foreign posts were unbuttoned, indiscreet and often very funny.
Being able to laugh at cultural snafus, misunderstandings, and the day-to-day frustrations that come from a foreign post does help to release building tensions. And tensions are always in evidence, whether they are minimal to mediocre to grand slams.
I remember back when… oh… well… never mind… (I'll wait until I'm far away from it all – or everyone is dead – one or the other or all three).
Some British ambassadors let it all hang out:
Ambassadors going out with a bang: There is, I fear, no question but that the average Nicaraguan is one of the most dishonest, unreliable, violent and alcoholic of the Latin Americans.

Roger Pinsent, Managua, 1967
Parting shots at Thailand…
While some of the ambassadors' last words towards the countries they were leaving were quite scathing, one ambassador to Thailand showed his clever in other ways:
… but since it is now immaterial whether my superiors consider me better fitted for a lunatic asylum than for a diplomatic post, I shall try to describe the Thai way.

First the idiom. If I were a Thai official in the presence of my superior I would stand at deferential attention while he spoke, then when he had finished would bend low and hiss his ear the one word: "Crap!" For in Thai this basic four letter word is not only the appropriate but the mandatory expression of total submission.

And, on another plane, what can one make of a language where the word for dentist is "more fun" or where, at least to the foreign ear, the words for "near" and "far" are exactly the same?

There are indeed separate and distinct expressions for "yes" and "no", but since it is impolite to use the latter the former is used for both…

Sir Arthur de la Mare, Thailand, November 1973
Polite particle: ครับ / kráp/
Dentist: หมอฟัน /mŏr fun/
Near: ใกล้ /glâi/
Far: ไกลๆ / glai glai/
Yes: ใช่ /châi/
Not yes: ไม่ใช่ /mâi châi/
(TiT, I won't be posting the others – so buy the book?)
Note: The book is based on a BBC Radio 4 program of the same name. You can listen to a handful of the shows online: Parting Shots: Series 1.