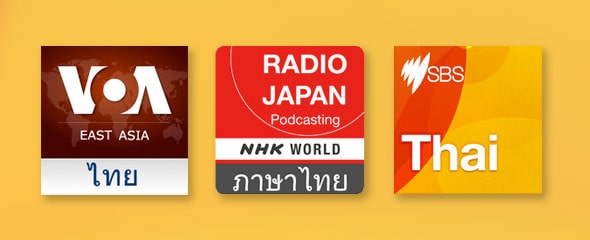 Free Thai podcasts to peruse…
For language learners who learn from abroad, podcasts can be a convenient way to access native media in the language they're learning, directed at native speakers. If you're learning French or a language of similar status, you're spoilt for choice; there are scores of podcasts on offer, catering to every taste and interest. Unfortunately, the situation is very different for us Thai learners. This post summarizes the few podcasts I know that publish episodes on a regular basis (as of January 2013). If you know any other podcasts directed at native Thai speakers, please add them in the comments!
Voice of America's daily news round-up: Monday to Friday, VoA publishes a 30 minute program with global, US and Asian news, and reports on health, science, entertainment, technology as well as the occasional interview. It has quite a good mix of topics, and Thai news are covered to some extent. It's clearly the number one news podcast in Thai.
VoA has also a good website, and there are transcripts (or close transcripts) for many of the reports they broadcast. VoA also has a weekend program on iTunes, as well as an alternative version of its weekday program. Mike from Self Study Thai offers VoA audio and transcripts in a convenient format with English translations.
NHK Japan's daily news program: NHK publishes a daily 14 minute (Monday to Friday) or 9 minute (Saturday, Sunday) news podcast in Thai. They bring almost exclusively news related to Japan, with very little coverage of world news and almost no coverage of Thai news. It's very Japanese, formal and boring. The Thai they use is beautiful, though.
SBS Australia: SBS publishes short news clips on a regular basis, about 2-5 per week. The clips are directed at Thais living in Australia. A few of this year's topics were: bush fires, rip current safety tips, natural gas development divides Queensland, Assad's speech, coal industry. I spent some time working in Australia and enjoy listening to news from down under, but if you have no connection to Australia, their selection of topics might not mean much to you.
There are some more podcasts on iTunes to be found but they don't add episodes anymore. There's nothing from Thai broadcasters as far as I'm aware of.