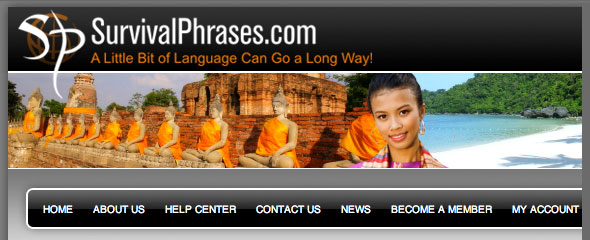 Innovative Language Learning…
Before I started downloading iPhone Thai language apps to review, I hadn't heard of Innovative Language Learning. Their frequent inroads into the Thai language learning market interested me enough to take a look.
wikipedia.org (now deleted – oops): Innovative Language Learning sites provide podcasts with accompanying text expansion exercises and other extensive tutoring aids available to paid subscribers or "premium subscribers". While Innovative Language Learning, LLC is headquartered in Tokyo, Japan, the lessons are recorded at various locations throughout the world.
And while they didn't have a Thai iPhone phrase book app on the market when I wrote iPhone apps: Thai Language Phrase books late last year, they do now: SurvivalPhrases – Thai (no longer online).
Free lessons at Survival Phrases Thai…
There are two versions of Survival Phrases Thai. One is the iPhone app mentioned above, and the other is their online version with mp3 and pdf downloads. From what I can tell, the sound files are exactly the same.
Each lesson is about 4-6 minutes long. They start with an explanation of the Thai words and phrases, and then run you through your Thai paces at the end of each lesson.
The lessons are geared towards tourists coming to Thailand, but they are a decent introduction to the Thai language for those living in Thailand as well.
SurvivalPhrases.com is designed to provide world travelers with essential phrases in multiple languages and cultural insight you will not find in a textbook.

The 50+ phrases selected for this series are the most useful travel phrases as determined by a frequency of use analysis. In addition, the topics and cultural insight are also the result of careful research on up-to-date topics.
The full version of Survival Phrases Thai has 60 lessons at a knockdown price of US$25. So if my tally is correct, they work out to around 40 cents per lesson.

Are you into FREE? Then check their course out beforehand, gratis. To do that, get the first ten lessons free either on their website, or by signing up via iTunes: Thai Survival Phrases. If you do download their mp3's at iTunes, be sure to go to their site to get the free pdf's written for each lesson.
The free lessons cover: Thank you, you're welcome, please, basic greetings, parting greetings, where's the bathroom, can you speak English, I don't understand, say it again please, apologies, business greetings, non smoking / smoking, at the table, table etiquette, and getting the check.