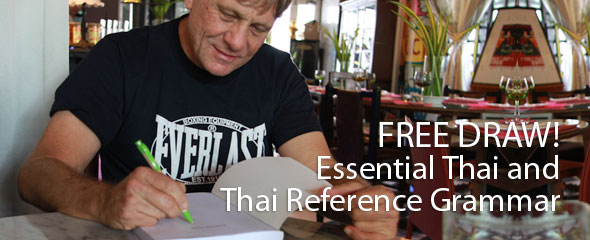 FREE DRAW! James Higbies' Essential Thai AND Thai Reference Grammar…
Someone is going to get lucky soon. Originally, the prize for this draw was to be a signed copy of Essential Thai by James Higbie. But when Jim and I got together over a beer he agreed to offer both Essential Thai AND Thai Reference Grammar. Kudos to Jim, that's quite a healthy prize!
As before, to be included in the draw the rules are simple:
You need to leave a comment(s) below.
The comment(s) need to be reasonable.
Explanation: Each comment gets counted so please feel free to leave as many as you like. But here's the thing… the comments must add to the conversation as well as pertain to this post.
How it works: Each time a relevant comment is made, I'll write the name on a slip of paper. When I meet up with Jim over a beer, the papers will be stirred, shaken, whatever, for him to pick the winning name.
After it's over: The draw will close on Saturday morning, July 6, 8am BKK time. The winner will be announced that very same day.
Thai Reference Grammar and Essential Thai..
Both Essential Thai and Thai Reference Grammar are on my 'must have' Thai book list. Essential Thai because it covers the basics in an easy to understand manner. And Thai Reference Grammar because when I need to know something grammar-wise, it's easily found.

Thai Reference Grammar
Author: James Higbie
Paperback: 443 pages
Size: 9.4 x 6.9 x 1 inches
Published: July 10, 2006
Thai Reference Grammar has already been reviewed in Mark Hollow's Review: A Guide to Thai Grammar Books, so I won't cover it again.

Essential Thai
Author: James Higbie
Paperback + CD: 234 pages
Size: 7.8 x 0.5 x 9.8 inches
Published: 2012
Most of those interviewed in the Successful Thai Language Learners series have a favourite Thai course. Mine is Essential Thai. When I first started learning Thai I heard of the legendary but out of print Essential Thai. Cherished copies of copies were being passed around, but by then, even those had all but disappeared (I looked). Lucky for beginners, Jim reprinted Essential Thai in 2012.
Teach Yourself Thai and Thai for Beginners are also good, so why do I favour Essential Thai? Well, if you pinned me down for a reason I'd have to say that it's because the lessons get straight to the point. When you first start studying a foreign language you often don't remember long, detailed explanations. In Essential Thai, after a brief overview of the subject matter, you get a selection of vocabulary and useful sentence patterns to practice with. And then you move onto the next subject.
What the course doesn't have is a quiz (I'm partial to testing). If that's how you learn, you can get around it quite easily by following the suggestions in Using the Assimil Method with Essential Thai.
Essential Thai: table of contents…
I could spend hours extolling the virtues of Essential Thai but if I do this review will never happen. Just ask Jim (he's been waiting for a year). Instead, here's the robust table of contents that clearly includes everything a student of the Thai language needs to get started.
Introduction: pronunciation, numbers, colours.
First Things: greetings, going places, very/not at all, already, thank you/excuse me, do you understand, pronouns/I am, speaking politely, I don't know, can you speak Thai?
Shopping, getting around: money and shopping, paying in restaurants, how many, bottles of water, food and drinks to go, buying clothes, getting change, bargaining, where is, asking for a restroom, travelling – basic questions.
Questions and expressions: what's your name, how are you, where are you from, how old are you, have you eaten yet, have you been in Thailand long, goodbye/good luck, phrases for learning Thai common expressions, expressions from Thai culture.
Step by step conversation: basic sentences, to be, too (too hot), this/the, the same/not the same, comparing, like more than/like the most, possessive, this person/that person, who/which person, numbers of people, using verbs, yes/no questions, maybe/I might, go with verbs, I like to/I want to, have to/must, can/able to, I'd rather, I've/I've never, have you yet, not anymore/never again, so/shall, connecting words, request/commands, let/allow, there is/there are, somebody/nobody, many/a lot, a little, more/again, only, each other, together/myself, a different one/not this one, what kind/what style, particles, notes on vocabulary, compound words and prefixes.
Conversation topics: family, marriage, work, religion, asking Thais where they are from, foreign people and things, important cards and documents, children and adults, some people/most people, weather, talking about places, feelings, dialogues.
Time: days of the week, morning/afternoon/night, telling time, minutes/house/days/weeks/months/years, how long, times/occasions, time conjunctions, other time words, months and years.
Food: ordering, drinks, ingredients, friend rice and noodles, Thai dishes, vegetarian food, western food, fruit, buying foods on the market.
Transportation: kinds of vehicles, stations/airport/pier, city bus, city to city bus, driving instructions, renting a vehicle.
Hotels and bungalows: hotels, asking for things, beach bungalow.
Getting around town: places in town, directions, near/far, prepositions of location, inside/outside/above/below, which floor, bank, post office, tailor/dressmaker, invitations/appointments.
Medical, emergencies, phone: parts of the body, medical problems, medicine, emergencies, telephone.
Around Thailand: areas of Thailand, Bangkok, Central Thailand/the East, the North, the Northeast, the South, forest, ocean, countryside, a Thai temple, home, Thai culture.
And the rest: reading Thai, classifiers, Thai dictionary.
FREE DRAW recap…
So there you have it. To enter the draw leave relevant comments below. As many as you can muster. The draw will end next Saturday morning. The results of the draw will appear sometime that same day (after I wobble back home from meeting with Jim). I hope you get lucky!