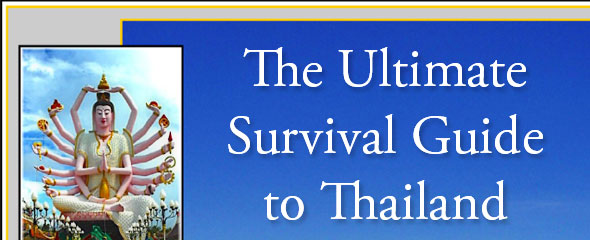 Alan Brewis: The Ultimate Survival Guide to Thailand…
The true generosity of Thai language learners never ceases to amaze me. Last year, Alan Brewis put a highly polished draft of his book, The Ultimate Survival Guide to Thailand, online for anyone to read. For free. When I contacted him about adding it to WLT's growing list of free, he was more than happy to agree.
This book is not intended to be an all-knowing encyclopaedia on Thailand. There are many publications that already do that job quite admirably. Rather, this book is designed to provide the short-term holiday-maker with some essential basic information, and a few of the more common Thai phrases in a way that will hopefully help in understanding a little of the Thai culture – and encourage people to try to speak some Thai on their holiday. Hopefully this will add a sense of achievement and fun which would otherwise not be experienced.
The Ultimate Guide to Thailand, in its full form, is now available through Amazon.com, has actually sold a few copies, and I even got asked to sign one for a German visitor to Samui last year! (Fame at last! lol)
If you are coming to Thailand, I really only have 2 pieces of advice to give…

Learn a little about the country and its culture (by reading this book – obviously!)… and …
Learn a little Thai, and/or a few Thai phrases!

Although there is no doubt that the Thai language is far from being one of the easiest languages to learn, your Thai hosts (and the Thai people you meet) will adore you for making the effort!

Oh! … one more thing… (actually, 2!)… smile and have fun!
The Ultimate Survival Guide to Thailand: Download PDF format 2.7 MB