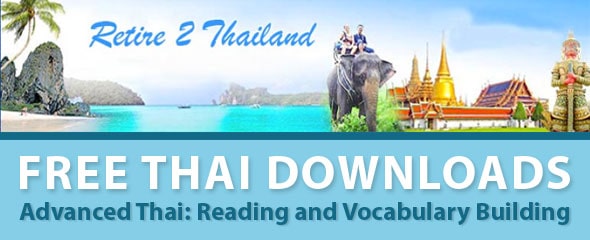 Meeting successful language learners…
One of the many pluses with hosting the Successful Thai Language Learners series is meeting talented (and generous) Thai speakers.
For instance, take Hugh Long of www.retire2thailand.com. Hugh was yesterday's Successful Thai Language Learner.
In the middle of our back and forth, Hugh released a triple package of free: Advanced Thai Reading and Vocabulary Building.
Like me, you probably went the route of starting with the equivalent of ABC books or the "ก่ ไก่ ข่ ไข่" books, and you've been reading everything you can get your eyes on, including street signs, advertising billboards, and restaurant menus. Then you moved on to the "นิทานเด็ก" or Thai children stories including probably all of Aesop's Fables in Thai. Now it might be time to graduate. Thai newspapers are the logical next step.

Little has been published recently to help the foreign reader of Thai to practice reading at this higher, and quite specific, level. I know, because when I started to try and improve my reading, I looked everywhere. I was able to find some out-of-print texts but nothing of recent publication.I decided to use my teaching experience to help solve the problem (of reading at a more advanced level). I began to produce my own reading materials and exercises to help myself. I developed a system that works for me and I have adapted it into these books with hopes that they will prove useful to those who really want to expand their knowledge of the Thai language.

Thai is an extremely robust and colorful language, full of idioms, slang, and sophisticated word play. Many new learners of Thai don't realize this since their vocabulary is limited to daily, survival Thai. In Volumes 1 and 2 I have introduced the reader to more than a thousand new, complex, and high level vocabulary words. Hopefully one of the results of these exercises will be to help the learner of Thai to better appreciate the beauty of the Thai language.
And Hugh is so right. There is a ton of reading material for beginners, but as soon as you progress to intermediate and advanced, the pickings are slim.
So if you are beyond beginners in Thai reading, then be sure to download your own copy of Hugh's Advanced Thai Reading and Vocabulary Building.