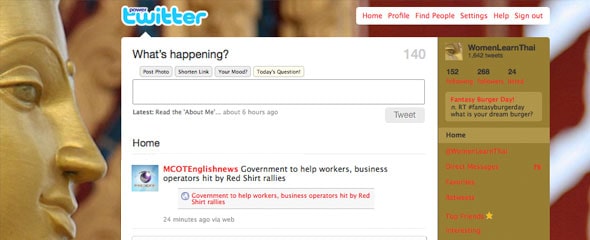 What's going on with Thai politics…
Some westerners in Thailand see the Red Shirts as an inconvenient pain in the butt (but so are volcanoes). Others feel that the Red Shirts have a valid point (a number of Pink Shirts believe that too). To top it off, knowledgeable expats plugged into the mainstream of Thai politics cover the full spectrum of Thai colours.
But politically savvy or no, what most people want is to get on with their lives. As safely as they can.
As a curious resident in Bangkok, I've been known to rub Red shoulders and a few Pink ones as well. But when all that rubbing broke out in a rash of danger, I stepped back.
No, I am not hiding out on my sofa. I'm (mostly) staying away from the designated Red Shirt areas. That's it.
Newley Purnell, a freelance journalist in Bangkok, describes the situation spot on:
People who live in my apartment building are still coming and going to work. Vendors on the street are still serving soups and noodles. The motorcycle taxi drivers are still delivering people to and fro. But people seem more and more, worried about how everything will end.

Some Thai people on my street support the reds, and sport red bandannas now. Others tell me that the protests are crazy, and that they wish the reds would go away. But no one wants to see violence.

Unfortunately, that's already happened.
Keeping safe in Thailand…
Now, I'm not streetwise, but I do depend on commonsense. And not being streetwise, I went looking for outside advice about safety in Thailand. My search led me to those covering Thailand's news: Journalists, photographers, photojournalists, and an aspiring filmmaker. All on twitter.
The first question I asked was: Besides telling everyone to stay home, what safety tips do you have for those in Bangkok?
Andrew Marshall, British author and journalist | web: Andrew Marshall | twitter: @Journotopia
My advice is pretty obvious. Stay well away from the main protest site, which includes not only the shopping and business district of Rajaprasong, but also the upper part of Silom Road and (sadly) Lumphini Park. Also, stay away from all demos elsewhere in the city, whether they are staged by red-shirts or by the increasing number of protesters who publicly oppose them.

I am still recommending my family and friends to come to Bangkok and Thailand. Those who have already booked holidays shouldn't change their plans, especially if they're passing through town to other Thai destinations. But they should keep an eye on their trusted news sources, because things can change quickly.
John Le Fevre, photojournalist | web: Photo_journ | twitter: @photo_journ
Well I guess the best advice I can gave is to view comments coming from either camp with a degree of skepticism and to keep an open mind. The often quoted comment by the government and many expats that this rally is solely about returning Thaksin Shinawatra to power and restoring his fortune is probably the greatest piece of misinformation bandied about.

Many of the protesters I have spoken to really couldn't care less about Thaksin or his millions, but what they are concerned about is the future of their children and grand-children. The lack of opportunity, the lack of equality, the poor medical and education opportunities in the rural areas. While many have a soft spot for Thaksin, it's because he's the only PM Thailand has had who ever gave the rural poor anything.

I think the best advice is that things are not always as they might at first seem. There are more players in the game than just the red-shirts, yellow-shirts and the government. The situation is rapidly deteriorating as these other players become more active. From what we've seen the yellow-shirts and people opposing the red-shirts are more prone to violence than the red-shirts and some of these factions are not at all concerned about who they target, or who gets in their way.
Terry Fredrickson, journalist | web: Bangkok Post | twitter: @terryfrd
With the most of the city and country functioning normally and the potential for violence largely confined to the rally sites, I'd say the average person has little chance of death or injury. Find out where the various parties are rallying and avoid them, especially in the evening and at night. This has become more important now that rpgs have entered the equation.
Tony Joh, aspiring filmmaker | web: Thai Faq.com | twitter: @thaifaq
This may sound silly but my suggestion to anyone who does go down to the protest area is to slap on their big Thai smile. At every protest I've been I haven't had a single person not return a smile when I smiled at them first. Even the most dodgy looking guys standing guard in the early morning hours warmed up to me after I smiled first. I found it to be a key icebreaker for me, especially as my knowledge of the Thai language is limited.
Richard Barrow, photographer, journalist, and more | web: richardbarrow.com | twitter @RichardBarrow
Travel advisories from various Western Countries suggest that you stay away from protest sites and large gatherings. That is very good advice. It may feel like a temple fair at times but it can quickly change into something far more sinister if the police or army decide to start a crackdown while you are there.
Richard, you've done a fair bit of running around Bangkok, covering the political events. Having witnessed the demonstrations firsthand, what are your concerns?
I am concerned that we have now entered a new and more worrying phase in the protests. The stakes are getting higher and the leaders are getting desperate for a result soon.

I have said before that I have taken pictures at both the yellow shirt and red shirt rally sites and that the Reds win hands down for everything. It doesn't mean that I support them, it just means that those yellow shirt guards really scared me. I personally witnessed yellow guards beat up people walking by that they thought were spies.

However, from what I have seen recently, the Reds are now going down that same road. If they do, then they will start to lose a lot of support. As far as the threat of a civil war goes, I still say it is unlikely, but, the chances of it happening is far higher at this moment than in the last many years of Thai history.
Is it safe to travel in Thailand at the moment?
I have seen nothing but white sandy beaches and Thai smiles the last few days in Thailand. The only Reds that I have seen are foreign tourists who have been out in the sun too long. Thailand is a big place and if you are coming here on holiday then it is easy to avoid Bangkok and just go straight to the beaches or up north to Chiang Mai.
Who to watch? Who to read? Who to follow?…
When I want real news in Bangkok, I don't grab a newspaper or turn on the TV. I head to twitter instead. To stay current with recent Thai events, I keep an eye on twitter's real-time results for #redshirts.
For instant Thai-to-English translations on twitter, Terry Fredrickson (@terryfrd) and Tulsathit Taptim (editor) from The Nation (@tulsathit) are the guys to follow. And when the Red Shirt leaders are speaking from their stage, you can bet either Terry, Tulsathit, or both are there. Translating. When PM Abhisit is giving a speech, ditto. And what one doesn't catch, the other does. Fabulous.
I asked Terry: Some of the translations from the Red Shirt stage are quite the eye-openers. Which ones stand out the most?
What you hear on the red stage is classic indoctrination — the same talking points repeated ad nauseum and virtually all red-shirt supporters can repeat them.

On the positive side, there is that constant exhortation to protest peacefully and most reds take this seriously.

On the negative side is the constant demonization of the opposition and the fictional aristocracy (amataya). Dr Weng repeatedly condemning Abhisit as being worse than Hitler or even Pol Pot is way beyond the pale. Weng would likely have been executed under either government.

This type of talk makes eventually reconciliation all the more difficult and a fair election in the short term almost impossible.
Terry, do you have any plans to compile the translated speeches for future viewing?
I've never thought about compiling any of this. The translations are pretty rough because you have to absorb what is being said, type it quickly (not that easy for me) while keeping up what is being said next. The language from the stage is not so bad because there are frequent pauses for applause, but interviews and announcements can be tough. Abhisit, for example, can go a mile a minute when he gets worked up.
 
I do a lot with the red stage because I think it is important — and very interesting — to see what is being said and to be aware of what the red leaders say they are going to do next, so people can be prepared.
Terry and Tulsathit, thank you for your fabulous service to the expat community in Thailand (and out). A special thanks also goes to Newley Purnell, Andrew Marshall, John Le Fevre, Tony Joh, and Richard Barrow for their reporting, as well as helpful advice on weathering the present situation.
Psst… Terry was interviewed on WLT: Successful Thai Language Learners: Terry Fredrickson.
Thai politics on twitter…
Below are a few people to follow for political news and views on Thailand's latest kerfluffle. I'm not a political twitter expert, so please add your favourites in the comments or send me an email. Both will do.
Note: You can even follow Abhisit(@PM_Abhisit) and Thaksin (@Thaksinlive). I don't.
A few websites to follow too…
There are many websites that discuss Thai politics. Some are blocked, others are not. Due to tonight's time constraints, I won't list everything here (not right away, anyway).
But I will take the time to mention Newley Purnell's new site on Thai politics: Topic: Thailand Understanding Thailand's political crisis.
And I just have to mention my 'ole favourite: 2Bangkok.com.
It looks like twitter is heating up on the subject of clashes on Silom, so I gotta go…