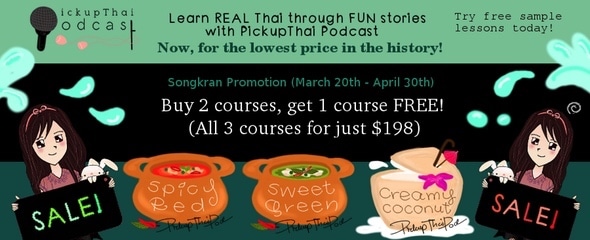 A HEADS UP! PickupThai Podcast's website has been hacked so I'm running an emergency post to get the word out.
PickupThai's website (www.pickup-thai.com) is temporarily inaccessible due to unexpected circumstances. However, you can still order podcasts (PickupThai Podcast) and request free samples by email.

Payments are accepted through Paypal and Thai bank transfer. The links to the podcasts will be sent to you by email to download from.

If you are looking for a good mobile application to learn Thai, you can check out Ling. Through this application, you can learn Thai with games, flash cards, and puzzles. It can help to improve your speaking, listening, reading, and even writing skills.

The Songkran Grand Sale – Buy Two Courses, Get One Course Free (all three courses for only $198 USD) is still running and has been extended until April 30th.

Should you have any questions, feel free to contact the admins at contact [@] pickup-thai.com or through their Facebook page: PickUpThai or Twitter account @PickupThai.

Yuki Tachaya and Miki Chidchaya
As their information is down as well, here's a review of Green (intermediate) and Red (advanced), and an overview of Coconut (beginners):
Green and Red: Review: PickupThai Podcast by Yuki and Miki
Coconut: WLT's 2016 Thai Language Giveaway: PickupThai Podcast
Good luck Yuki and Miki – your site is sure to be back soon!