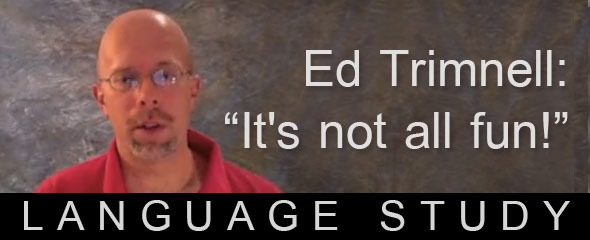 Language study: It's not all fun!…
Now that I have a twitter account dedicated to language resources, @LearnThaiRes, I've been adding my favourite tweet people, like David Mansaray @DavidMansaray. Recently David introduced me to Ed Trimnell's YouTube account: etrimnell.
Ed's commonsense statements on learning languages drew me to share the below video.
Opinion: Should language study always be fun?…
Ed Trimnell: You've no doubt heard a lot of people promise that you can learn a language "without books, study–simply by going out there and speaking."

This video explains why the most effective way to learn a language is through a combination of immersion and traditional study/translation-based methods.
"This video does not exist"
… don't you just hate that?
Anyway… what do you think? Should language study always be fun? Is immersion in your target language all it's cracked up to be? Just what are the hard realities of learning a foreign language? Questions… questions…