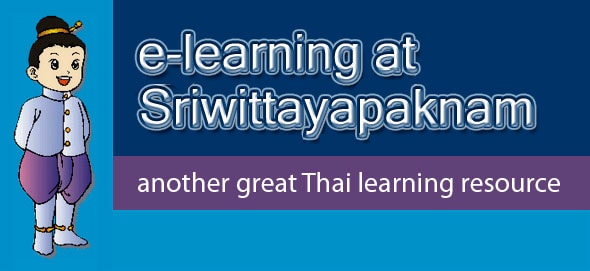 Fabulous FREE online Thai reading materials…
NOTE: I'm waiting for this resource to (hopefully) come back online.
I've mentioned the Thai study materials found at e-learning at Sriwittayapaknam School (dekgeng.com) in forums, comments on WLT, and in the Learn Thai for FREE section. But it wasn't until I sent the url to Josh that I noticed the lack of a dedicated post. And as it's a fabulous resource for learning to read Thai, here you go.
You start out first by studying the Thai alphabet with Thai reading and Thai alphabet. Next up is the Thai alphabet test. After, you graduate to learning consonant and vowel combos, just like in a real Thai classroom. You'll find those in Lesson one, Lesson two, Lesson three, and Lesson four.
The important part (IMHO) of this site is the ability to hear the sounds on command. It's a simple, but effective way to learn your way around the Thai alphabet.



For more advanced students there are comprehension tests, maths, games and more. So as you can see, e-learning at Sriwittayapaknam is quite the useful resource for learning Thai.