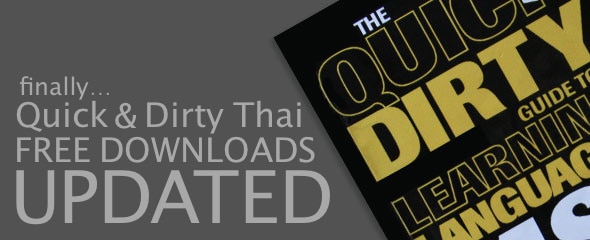 Quick & Dirty Thai…
Nine years ago (July 2008 to be exact), WLT's first book review covered The Quick and Dirty Guide to Learning Languages Fast by actor Myke Hawke.
After chatting with Myke and getting permission to use the material in his book, it turned into a series: Quick & Dirty Thai Language Learning with Myke Hawke, Interviewing Myke Hawke: Quick & Dirty Guide to Learning Languages Fast, and then finally, the FREE: Quick & Dirty Thai Vocabulary Download.
As the materials in the Quick & Dirty resource are English-Thai, it was always my aim to add Thai specific vocabulary and phrases. But I didn't realise it'd take nine years to make it so – apologies for that.
Quick & Dirty Thai tips and bits and pieces…
The phrase (Quick & Dirty) is frequently used in describing any document or tutorial that gives a brief overview about how to do something, without going into too much detail about why or how it works.
These words and phrases are not meant as a 'be all and end all', they are merely a Quick & Dirty intro. One of the best pieces of advice I know for acquiring real Thai comes from a dear Thai friend:
"Just keep watching how Thais do it and after a while, you'll start getting the hang of it".
Different cultures / beliefs / mindsets = different languages and usage of words. The English and Thai languages do not have a shared linguistic heritage, so while the words and phrases in this file are not grammatically wrong, some might sound a bit off to Thais (especially when used out of context).

Given the different nuances in the cultures, a phrase will work in one situation but won't be sound 'quite right' in another. Just one reason is because English is often direct while Thais make an effort to be less abrupt (beating around the bush to get the same results).
Suggestion: If the word or phrase doesn't quite fit in context, get feedback on when, where and how to use them from Thai teachers, Thai friends, or when running around Thailand (if you are lucky enough to be here).
But you do not have to be in Thailand to converse with Thais – Skype is an amazing resource. Thai Skype teachers such as Narisa will have you conversing in real Thai in no time. And if your budget won't stretch that far a language exchange partner might work for you.
Grammar: When in doubt, download David Smyth's FREE Essential Thai Grammar (legal download). Otherwise, purchase one of the Thai grammar books mentioned here: Review: A Guide to Thai Grammar Books.
Transliteration: The transliteration comes 'as is' from thai2english.com. I have not changed anything so please do not use it as a 100% crutch.
Quick & Dirty Thai Vocabulary…
Vocabulary Key: Throughout the vocabulary lists you'll come across words in brackets such as [polite] and [casual] and [written] even. This is to alert common usage but isn't always set in stone (rules are always being broken and sometimes I'm just plain wrong).
Spoken: Unless noted, vocabulary is presented in spoken language.
Written: Used in written language (but sometimes on TV).
Polite: Spoken to someone of respect.
Formal: On TV, making a speech.
Casual: Close relationships.
A wee tip: When using Thai vocabulary you can't just slot words in any 'ole way. For instance, the English 'yes' is often translated as ใช่ /châi/ but in real life it that's not always the case. Instead, repeating a keyword or the injection of polite particles (ครับ and ค่ะ) is sometimes required.
Particles: These are used at the end of sentences and in response to questions. I have not included a complete list but there's enough to get you started. Just know that it can take practice to get your head around using particles. When/where/how you use polite particles is determined by who you are (your status), who you are talking to (their status), your intentions and often the length of the conversation.
Many Thais (teachers and friends) will advise students of Thai to stick to polite over casual. I lean towards polite (just not overly). It doesn't suit certain personalities so you'll have to sort that particular quagmire out when you come to it.
A tip for those who prefer polite Thai (especially when first meeting someone): Unless you are talking to someone of a much higher status (your boss, your boss's boss, etc) you don't need to put ค่ะ/ครับ/จ้า at the end of every phrase. Start off by attaching one to the opening phrase. Then, after that, sprinkle them around when there's a change of subject or when you are thanking someone.
But how to talk to close friends will sometimes change the whole ballgame.
Pronouns: Pronouns in Thai are rich and varied. To simplify, in the phrase file I've used ฉัน, ผม, and คุณ as placeholders for pronouns. To get more insight on the subject please see Arthit Juyaso's excellent posts:
Thai Time: Using Pronouns Like a Pro (Part 1: How to Say 'I' in Thai)
Thai Time: Using Pronouns Like a Pro (Part 2: What Should I Call 'You')
Quick & Dirty Thai Downloads…
Spreadsheets: There are two spreadsheets: 1) the Quick & Dirty Thai Vocabulary spreadsheet that has Thai script and transliteration (inside the sheet you'll find script only and transliteration only), and 2) the Quick & Dirty Thai Phrases spreadsheet (ditto the insides). In the phrase spreadsheet I've included both female and male sentences so feel free to pick and choose your poison.
Audio files: There are three audio downloads: 1) vocabulary by subject, 2) vocabulary by total list, and 3) the phrases. In the spreadsheets you'll see the audio file name alongside each phrase or word. This is to make it easier for those who want to create flashcards with Flashcards Deluxe or Anki or whatever you choose.
Excel downloads:
REVISED: Quick & Dirty Thai Vocabulary [597kb]
REVISED: Quick & Dirty Thai Phrases [571kb]
Audio downloads:
Audio: Quick & Dirty Thai Vocab (by subject) [11.08mg]
Audio: Quick & Dirty Thai Vocab (total list) [11.09mg]
Audio: Quick & Dirty Thai Phrases [12.8mg]
Quick and Dirty Thai Phrases on Memrise…
David Smith has kindly put most of the Quick and Dirty Thai Phrases on Memrise (thanks David!)
Quick and Dirty Thai Phrases 1
Quick and Dirty Thai Phrases 2
Quick and Dirty Thai Phrases 3
Quick and Dirty Thai Phrases 4
Quick and Dirty Thai Phrases 5
A Quick and Dirty Thai thanks…
Over the years there have been many who've contributed to this resource: Narisa Naropakorn (Thai Skype Teacher: who offered suggestions on the different versions of the file), Sean Harley (Speak Read Write Thai: a stickler for Thai-Thai and Thai-English – note: Sean gave advice but lays no claim to the files), Rikker Dockum (Thai 101: who assisted on the first run), Khun Pairoa (my longsuffering Thai friend who records for WLT and responds to all my crazy questions about the Thai language), and now David Smith who has created lessons on Memrise. Thanks all!
REMINDER: These materials are for personal use only (do not upload them on websites, etc, without permission).
Ah. Before I go. A few things were added at the last minute so there's a possibility of mistakes. If you do spot something please drop me a line via WLT's contact form.