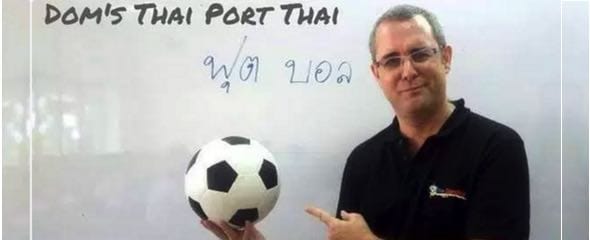 Due to Tom Earls' retweets, for the past few months Dominick's learning Thai via Port F.C. tweets have been appearing on my twitter timeline.
From Dominick's bio: "Originally from London, Dominick has been teaching English in Bangkok since 2006 and has been following Port FC since 2011".
Being clueless about Thai football, I had to visit Port F.C.'s about page to get the goods:
Port F.C. (Football Club): Established in 1967, Port FC is one of Thai football's longest-established clubs and one of the best supported clubs in Bangkok, drawing its support largely from the densely-populated working-class Khlong Thoey district.

Thanks to its proximity to the centre of Bangkok, and being the only stadium in the city within walking distance of the MRT, the club also attracts a large number of "farang" (foreign) supporters – probably the largest foreign matchday following of any club in Thailand. Foreign fans are also attracted by the friendly, noisy atmosphere (by far the best at any Bangkok club), and the "proper" stadium – unlike many Thai stadiums where the fans are separated from the pitch by a running track, PAT Stadium is a proper old-school football ground where the fans are right up close to the pitch.
If you are a fan of Thai football, here a list of Dom's Thai Port Thai posts (so far):
Dom's Thai Port Thai: Lesson 1 – Going to the Match
Dom's Thai Port Thai: Lesson 2 – Terrace Thai
Dom's Thai Port Thai: Lesson 3 – Players, Coaches & Refs
Dom's Thai Port Thai: Thai Port Songs 1 – Rao Kue Singh
Being the gentleman he is, Dominick gave a shoutout to Yuki and Miki's (pickup-thai.com) Glossary of Football Terms. Nicely done.