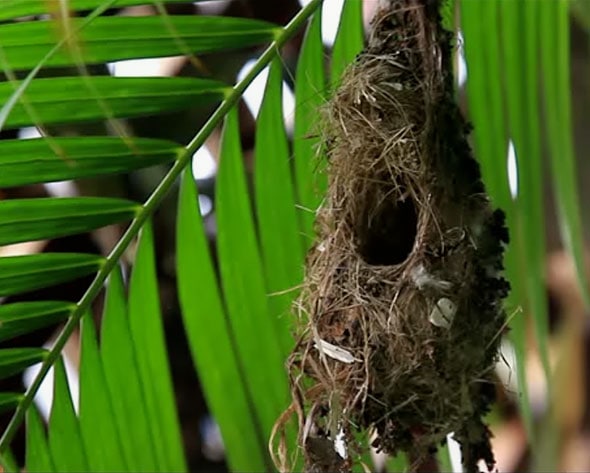 Nesting birds in Thailand…
With a deep, plant covered balcony wrapping around my condo in Bangkok, I am gifted with nesting birds. But one thing I've noticed is that not all birds are talented at building nests that work. There are fatal flaws in their workmanship.
Last year I had a Streak-eared Bulbul nesting in June, and then Olive-backed Sunbirds from December to January. As you can see in this post, the Streak-eared Bulbul's nest had to be reinforced to stop the baby chick from falling out (I know, I know, I need to finish the saga – and I will).
Fast forward to the nesting Olive-backed Sunbirds.
Sunbirds arrive at my condo with much fanfare. In stereo, they tweet LOUDLY every time they do something. Search for a nesting spot? TWEET! TWEET! Build a nest? TWEET! TWEET! Lay eggs. TWEET! TWEET! Feed the chick. TWEET! TWEET!
From December to January my condo is filled with their loud tweets. And honestly, I don't know how they avoid being eaten by predators because their COME EAT ME chirps are a feast in the making.
Last year they built their nests outside my kitchen's sliding glass door. That is a perfect spot because it's dead easy to take photos and videos. And as that whole side of the condo is glass I got a prime view of their nesting habits.
But this year they decided to build their nest under a palm by my living room. Again, that side of the condo is wall-to-wall glass so I can watch from inside as well. Not as easily, but it'll do.
Below is nest number two in that spot. The December egg had already hatched and flown away. And when that happens, my housekeeper throws the nests away.
Soon after I took that video the nest ended up on the ground. Shoddy workmanship, I say. My housekeeper shoved the nest into the branches of a tree outside my kitchen, and then came to show me what was up.
I was worried that the parents wouldn't come back, but they did.
A couple of days later I'm in the kitchen and the Sunbirds started going crazy. TWEET! TWEET! TWEET! TWEET! TWEET! TWEET!
Hanging from a palm, they were looking into my kitchen. They were looking right at me.
So I walked outside and heard a wee cheep! cheep! cheep! After two nesting seasons I know that sound – it's a baby Sunbird. At first I thought the baby was trying out its wings and was in the trees. No. Trying to follow the noise, it sounded like it was above me somewhere. No.
Looking down, there it was. In a pot. This teensy thing about the size of my thumb had tumbled out of the nest and into the dirt below. Lucky him for landing on soft ground. And even luckier that I don't allow my cats outside. But both cats were watching closely from behind the glass. Tails twitching.
Time for this Cat to get into action, again. I needed to secure the nest to the tree somehow so I went to find tape. The only strong tape I had was heavy-duty packing tape. It was ugly but it'd do. After I got the nest secure I took a second look to make sure the job was done. The sun is stronger at that edge of the balcony so a fan taped to the back was the solution. Yeah, it just kept on getting uglier! But it was functional and that's what mattered. Oh, and the flashlight was functional too, as a mini spotlight.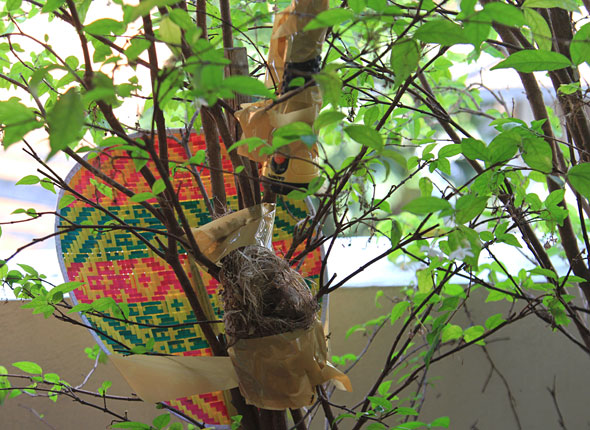 With a soup ladle in one hand, I scooped up the chick. In the other hand I held a paper towel to keep the oils from my hands getting on his feathers (apologies, but I'm going to stick with male this round). I used the hand with the paper towel to keep him from jumping out of the spoon.
Sunbird chicks have oversized bony claws. I got him into the nest but he clutched onto the side tight. But I needed him IN the nest, not on the edge. And as I couldn't have him fall out again I poked him softly with the end of the spoon. That didn't work. Also, I was worried about hurting him with too much force so I switched to using my index finger.
Softly softly, I poked him into the nest. Face first. And honest, except for manhandling him more I didn't have any other choice.
So there's this chick stuffed into the nest, with its butt sticking out. I wasn't sure if it'd survive like that for long. I mean, would he smother in there? It was a worry but I left him and his parents to it.
Besides the chick smothering, there were two more worries: 1) That my handling of the chick would drive the parents away and 2) that my butt-ugly remake of their nest would do the same.
But as you can see below, after checking out the nest the parents and baby chick settled down fine.
This last video might be more than you want to know about nesting birds. I found it informative because I've always wondered how they kept the nest filling up with bird poo. And now I know.
Btw – do you remember back with the baby Streak-eared Bulbul, where I would shake the tree limb so he'd open his mouth wide? And then I'd take snaps? Well, the baby Sunbird reacted the same. I'd wiggle my finger right under the lip of the nest and he'd pop out just like a cuckoo clock.
And the only things stopping him from shooting totally out of that nest were his big clawed feet.