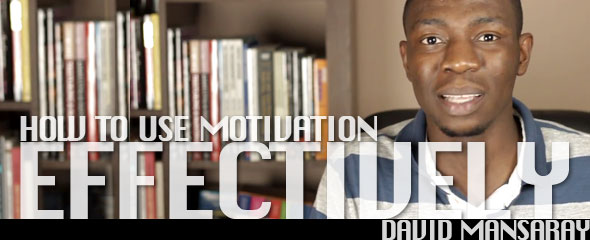 How to Use Motivation Effectively…
Has this ever happened to you? You are busy thinking the same 'ole thoughts like you always do, and then someone comes along and changes your head around with one of those "ah, hah!" moments.
That's exactly what happened to me this week when watching David Mansaray's video: How to Use Motivation Effectively.
UPDATE: David has since taken the video offline. Pity.
In the video David took "the minimum dose needed to have the desired effect" and combined it with "becoming motivated". His idea is for us to motivate ourselves just enough to propel us to do what we plan to do, but not enough to use up all our energy before we get there.
[ insert "ah hah!" here ]
Now, I've been worried about my lack of motivation to learn languages for a good long while. I eventually came to the conclusion that I was more interested in researching how to learn languages, than actually learning languages.
Researching all the different language learning methods gives me a high; an energy that pulls me forward. Seriously, I can spend hours going from one theory to another, often writing posts on what I find.
And just like David explains in the video, by the time I got to my studies, I'm done. I'm zapped out and my enthusiasm has waned.
But, after listening to David's explanation, I realised that's not 100% the case. What I was actually doing was using up my energy and motivation to study before I could get to my studies.
So instead, if I just follow what David suggests and harness that energy before it's consumed, then my natural excitement for languages will be transferred to my studies instead. See?
And guess what? It works! As soon as the rush of David's "ah hah!" hit, instead of searching for similar motivation resources, I went off to study. For hours. Fantastic.
If you too are having motivation issues, please give David's idea a try and let us know how you get on. Ok?
A little about David Mansaray…
I've been following David for quite awhile, on his blog and on twitter. What first attracted me to David was his interest in learning languages.
Do you remember The Polyglot Project with Claude Cartaginese? Since then David and Claude have teamed up for the informative The Polyglot Project Podcast. Prepare to be inspired.
But David's overall goal is the exciting Big Self-Education Project:
I'm going to challenge the status quo. I decided to drop out of university to pursue self-education. Over the next few months, or perhaps years, I'm going to teach myself a number of different skills and I'll share my journey. How much can we learn and how far can we go without an institution or qualifications? That's just what I'm going to find out!
I'm here to teach you how to learn more quickly and effectively. I share actionable steps and I also explain the science that holds it all together, because understanding why something works increases the chances of you actually doing it.
Site: David Mansaray
Twitter: @DavidMansaray
Facebook: davidmansaray
Thanks David. Your 'Big Self-Education Project' is certainly working for me. More please.