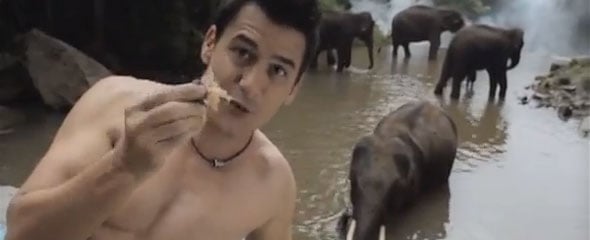 Daniel B Fraser: Amazing Thailand…
There's a new Amazing Thailand ad making the rounds of Facebook and twitter that actually lives up to its name. Even jaded, longtime expats are raving about the fast paced overview of the Thai experience. It certainly rekindled my excitement for living here.
The first time I saw the Amazing Thailand ad on TV I was all, "wait, I know that guy!" If you've been keeping up with WLT's Successful Thai Language Learner series, you know him too. It's the energetic Daniel Fraser from Smiling Albino.
The video looked like a total BLAST to put together so I contacted Daniel for a few words:
Daniel B Fraser: The commercial was a wild, whirlwind trip through amazing corners and experiences that make Thailand special. From midnight spontaneous filming in Chinatown in the rain, to a series of transport shots over a single day and self-shot scenes in a Bangkok taxi, it was truly an experience of a lifetime.

The concept was based somewhat on my weekly TV show on Thai PBS, and I was lucky to have almost total freedom on how each scene would be shot. No fixed script, just real experiences.

In northern Thailand we were shooting at 6am in early September – which is truly one of the best places – and best times – to be anywhere in the world. While the rice paddy shots look quiet and serene, to be fair we had a crew of 30 people plus 10 guests and clients from the studio and TAT, so in fact we were a massive crew. In a single day we re-created Phi Tha Khon Festival on location in Loei, as well as went white-water rafting (yes that's actually me), and a dozen temples and forest paths in Chiang Mai. Most days were 18+ hours due to my own tight schedule and other filming obligations with Thai PBS. The crew were amazingly accommodating and I can't thank them enough.

In the far south we had truly military-like precision logistics. Support boats, early morning access to quiet corners in national parks, and the team and director were truly brilliant at being in the right place at the right time. There is nothing fake here – there was no script – and almost everything was a single take in order to come across raw and natural. The final scene running across the beach is the exception, we did that over 25 times (nearly killed me) as the sand was so deep and dry it was near impossible to run properly:)

All up, the people I met, the crew, the locations, the planning and the fast-track into amazing Thai experiences, it all truly made for a lifetime adventure in a country that I feel only gets better!
There are some fun behind-the-scenes shots from my facebook pages back to Jan 22-24 that you can find: FB: Daniel B Frazer

Also an article came out today: แดเนียล เฟรเซอร์ ฝรั่งหลงกรุง

Here is the 3-min version: Amazing Thailand
Daniel, thanks for taking time out of your busy day to reply (I know you are back-to-back busy). Except for having to run back and forth across the beach, sounds like you did indeed have a fabulous time putting together this dynamic ad! I've given up on jumping out of planes but now I just might go for a bit of white-water rafting… we'll see.
Be sure to check out Daniel's interview on WLT: Successful Thai Language Learner: Daniel B Fraser. You can see even more of Daniel here:
Websites: Daniel B Fraser | Smiling Albino
YouTube channels: Smiling Albino | Longkrung Thai PBS
Facebook: Daniel B Fraser