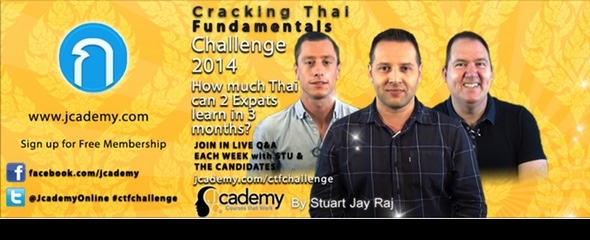 Cracking Thai Fundamentals: Thai Challenge 2014…
I've reviewed scads of learning Thai projects since starting WLT and Polyglot Stu Jay Raj's Cracking Thai Fundamentals Thai Challenge is one of the most exciting ever.
To give you a bit of background: Stu's original Cracking Thai Fundamentals started in Bangkok in 2000. Wanting to learn about the Thai language, I attended a CTF course shortly after arriving in Thailand. Like other students I met in class, I loved it so much that I signed up for second round.
If you are interested in what people are saying about CTF, below are several Cracking Thai Fundamentals interviews:
Stu Jay Raj is Back in Bangkok with Cracking Thai Fundamentals
Cracking Thai Fundamentals: Interview with Claudio Sennhauser
Cracking Thai Fundamentals: Interview with Scott Eddy
Cracking Thai Fundamentals: Interview with Peter Lo
In order to reach more students, six months ago Stu started working his butt off to create an online learning experience: Jcademy. That's right. You no longer have to physically attend one of Stu's courses to reap the benefits.
To add to the thrill, this week he launched the Jcademy Cracking Thai Fundamentals Challenge.
I'll say it again. Stu's CTF Challenge is one the most promising projects I've come across. And to help make it even more powerful, please do join in!
For the next few months you can follow Polyglot Stuart Jay Raj as he guides two expats through the CTF course. To do that, Stu created four ways to experience the challenge:
Watch the sessions live via Jcademy's CTF Challenge section.
Afterwards ask questions of Stu, Andrew, and Richard on Google Hangouts.
Watch the session videos on Jcademy and Stu's YouTube channel stujaystujay.
Join the CTF Challenge (how can you resist?)
Note: The first CTF Challenge Google Hangout starts at 4pm, Wednesday, January 22.
Be sure to keep up with Jcademy news via:
Web: Jcademy
Facebook: Jcademy
YouTube: stujaystujay
Twitter: @JcademyOnline
And a reminder. This is not a paid ad – I don't do those – the opinions in this post are unencumbered by personal gain.