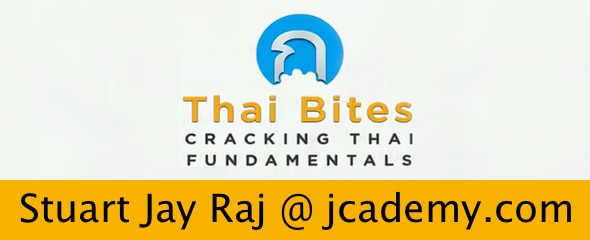 Cracking Thai Fundamentals: Thai Bites…
In January Stu Jay Raj launched Jcademy's CTF Challenge. Shortly after his wonderful Thai Bites started rolling out.
Thai Bites are small 'bite sized' lessons in Thai that are based on Stuart Jay Raj's Cracking Thai Fundamentals programme.

Thai Bites are available as a monthly subscription package where subscribers will be sent regular 'Thai Bites' to their email each day.

If you are looking a good way to learn Thai online, check out ThaiPod101. Although their courses are not free, they are cheap, effective, and can quickly teach you conversational Thai. All ExpatDen readers get a 25% discount using this link.
Once a week a free bite will be released to the public at Stu's Thai Bites playlist at YouTube.
But to get the full program, subscribe to Thai Bites at Jcademy.