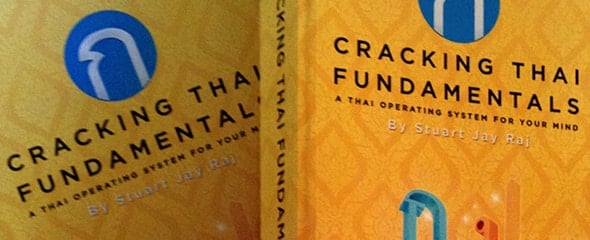 Cracking Thai Fundamentals: Review and Free Draw…
For an extra holiday treat Stu Jay Raj (author of Cracking Thai Fundamentals) has gifted a book to giveaway to the lucky winner. As with previous draws, the rules are simple:
NOTE: Each relevant comment gets counted, so leave as many as you like.
The draw will run from this moment until 31st December (New Years Eve), 6am Thai time. As soon I'm awake(ish) I (or someone else) will throw the numbers into random.org, and then announce the winner.
Good luck all and ho ho ho!
Cracking Thai Fundamentals: Review…
The Cracking Thai Fundamentals course by Stu Jay Raj was put together in 2000 to help members of the FCC (Foreign Correspondent's Club of Thailand) understand the Thai language. When researching the characteristic problems expats have with learning Thai as a second language, Stu developed an interactive system to kickstart students into learning the Thai language along with Thai culture (they go hand-in-hand).
Stu has since gone on to teach other expats, and has even taught the course in Thai to Thai teachers. I lucked out in my first year in Thailand when I came across CTF in Bangkok. It was such an entertaining eyeopener, I took it twice (as did many others in my class).
As there's only so much of Stu to go around, to enable a wider audience to take advantage of CTF he created an interactive, online version at stujay.com, a membership site.
So there's Cracking Thai Fundamentals the on-the-ground course, Cracking Thai Fundamentals the online course, and now Cracking Thai Fundamentals the book. When I asked Stu "why the book" he came back with:
Stu Jay Raj: Yes … I am getting older. The problem with the live course is that I have to choose between giving a brain overload or giving a watered down version. The book gets to go into more detail and can be used over the longterm. The online course was developed for a similar reason.
No matter which flavour you go with, the on-the-ground course, the online course, the course in book form, or even a combo, all are suitable for students of Thai sporting various backgrounds. Those brand spanking new to Thai will benefit by avoiding the many traps students often fall into, and those already deep into studying Thai will notice more than a few "ah ha's" along their CTF journey.
Before I go any further, I want to point you to the most complete review out there for CTF, the book. It's by Josh Sager at Let's Talk Thai: Product Review: Cracking Thai Fundamentals by Stuart Jay Raj.
Josh Sager: An Operating System for the Mind: It's important to mention right off the bat that this is not a Thai language learning "system" as you are perhaps accustomed to using. Stu himself is adamant in making this point clear. The book does not give you vocabulary lists to memorize, lessons on sentence structure, or quick phrases you can use while visiting Thailand as a tourist. Cracking Thai Fundamentals is a suite of tools designed to ultimately provide you with a deeper understanding of the Thai language; it's a way to take what you already know, what you are currently learning, and smooth out the rough edges. Think of it like expanding your paint palette from 8 to 128 colors to help you paint more vivid pictures.
Review: Cracking Thai Fundamentals…
As Josh has done a fabulous job reviewing the book I'm going to focus on linking the chapters in the book with Stu's online course at stujay.com.
For those of you who want to sample the online course before you buy, I've marked the FREE sections.
Stu Jay Raj: At a bare minimum I would encourage everyone reading the book to use the free online initial Preparing to Crack section along with the Consonant Compass… both interactive and downloadable versions. Laminate an A3 version of the Constant Compass and have it beside you as you learn.
Section One: Preparing to Crack the Fundamentals (page 30)
Preparing to Crack the Thai Fundamentals – Part 1 (FREE)
Section One is chockfull of tips to help prepare yourself for your Thai journey. It goes from changing your mindset (plenty of "ah ha's") to rearranging your actual life on the ground (paper dictionaries to computers).
Section Two: Thinking in Meanings (page 68)
CTF Thinking in Meanings
Thinking in Meanings Part 1
Thinking in Meanings Part 2 – Quizzes and Drills
Section Two is a full body, interactive chapter, where, with a few choice words, you are shown how feel their meanings before learning how to create actual sentences. For beginners, this is a brilliant intro into understanding how the Thai language works.
Section Three: Cracking Indic Based Scripts (page 181)
Cracking Indic Based Scripts – Main Lesson
Indic Consonant Compass (FREE)
Section Three covers the Thai sound system, the Thai writing system, and the system behind the system. Taking you back in time, this is where Stu opens up the magic of Indic based scripts to lay a foundation for reading, writing, and speaking Thai.
Section Four: Cracking the Thai Vowels (page 249)
Cracking the Thai Vowels – Main Lesson
Section Four uses hand signals and dimensions to get the Thai vowels into your head and out your mouth.
Section Five: Cracking the Thai Consonants (page 287)
Cracking Thai Consonants – Main Lesson
Section Five is understandably a large chunk of the book as it takes you through the Thai consonants. To assist your understanding, it goes through Stu's pronunciation glyphs, the five cardinal points of articulation, and then over to each consonant in turn.
Section Six: Cracking Thai Tones (page 484)
Mastering Tones in Thai Chinese and other Tonal Languages
Conquering Thai Tones – Webinar
Section Six covers the bane of most language learners of Thai, tones. By this section you will already have constants and vowels down, along with an understanding of the map of the human mouth, so with a bit more work you will be able to slot in the tones.
Final: How to Make the Cracking Thai Fundamentals Vision a Reality (page 545)
Stu Jay Raj: Lastly, don't forget that Thai Cracking Fundamentals is not a complete system to teach you Thai; that it is a system to help lay a new physical and mental operating system that will work hand in hand with all the other methods that you are using to learn Thai.
The final part of the book is a general "where do you go from here" section filled with advice on how to use what you've learned.
Cracking Thai Fundamentals: Draw reminder…
As if you'd forget … the draw will run from this moment until 31st December (New Years Eve), 6am Thai time.
Good luck!