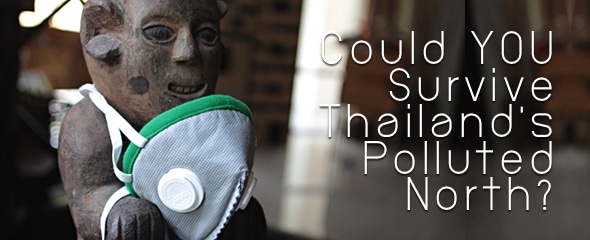 Would you even WANT to survive Thailand's polluted North? …
Until yesterday I was having serious doubts about my ability to stick it out in Chiang mai during the burning season. Last year wasn't too bad, but this year, along with thousands of others, I'm suffering.
The Nation: All-out efforts to fight smog (cough cough)…the haze crisis in the North, which threatens to be the worst in recent history, with air pollution in some parts of Chiang Ri province already three times beyond safety limits.
Every year the government publishes press releases on their meetings where they talk talk talk about cleaning up the air in North Thailand. Good grief all – it's not rocket science, just quit burning already! Because of the very real health consequences, other countries outlawed open burning yaks ages ago. That's right. There is a solution to this seasonal mess.
Yeah. I'm miffed. And Thais should be too. I went from gushing about Chiang mai and wanting to retire here, to wondering how quickly I could leave.
Asian Correspondent: Northern Thailand smothers under blanket of haze: Flights were turned away from Chiang Mai International Airport this week as Northern Thailand's haze crisis deepened. 'The Nation' reported Tuesday that at least four pilots decided not to land their planes Monday as visibility was reduced to 800 meters due to the persistent smog.
For the past three weeks, due to a lack of being able to breath, I've been mostly housebound. You see, I'm asthmatic, but not seriously so (and I pity Northern Thais who are). My grandmother on my father's side is though. She died of emphysema young, in her late 60's. My father and older brother are also serious asthmatics (when I was growing up it was nothing to have an ambulance come and take my older sibling away). But get me around cigarette smoke (even on a walk by) and I'm puking, then coughing up gunk the long night long. Lovely.
What I've done to survive the burning North…
Because last year wasn't too bad I started out ignoring the burning this year. Big mistake. Before I knew it my lungs were compressed, I was suffering from headaches, intermittent coughing kept me awake throughout the night, and the lack of oxygen replaced my energy with sore muscles.
As I wasn't in a position to hightail it out of here for months at a time I needed to find a doable solution. And fast.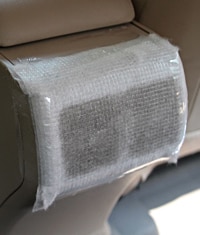 Chris and Angela, in How to Deal with Chiang Mai's Smoky Season suggested a N95 grade mask (shown in the banner above) from HomePro. It works fine for running around, and along with hepa-filters in the car, on a good day I can get to the grocery store and back.
I already had three air cleaners (one from Bangkok and two bought last year) ranging from 10,000 to 40,000 baht. This year they were not enough. Worried, the man of the house found one that actually works, the Toshiba Air Purifier CAF-G50(P). And while 15,000 baht might sound expensive, it doesn't need expensive filters (as does the 40 thou baht version) and does an amazing job of clearing the air. Live and learn.
Infact, the Toshiba is the real reason why I'm writing this post – I wanted to share my positive experiences with others who are also suffering due to the burning this year. Here's what happened…
Several days ago the electric went out and I forgot to reset the Toshiba. A few (three?) hours later I was in serious trouble with my breathing. I became lethargic, my lungs were again restricted with the building pressure in my chest, and coughing was full-on. All it took to recover was to put the Toshiba on its Turbo setting. Six hours later the light went from red (dirty) to green (clean) and I could breath freely again. Relief!
Then just yesterday the Toshiba got switched to low (there be gremlins in my house). Once again I was in distress, only this time to the point of having a serious discussion about being hospitalised. Luckily I noticed the errant settings and flipped them to high again. Three hours later the light was back to green and I could breath. Problem solved.
I'm now confident about staying longer in Thailand's polluted North. Only next year, I'll get an additional Toshiba so's I can live upstairs as well. Sleeping on the sofa hasn't been too bad all these weeks but I miss my comfy bed.
Anyway, as I need to come up with a closing paragraph I'll state what now seems to me to be the obvious. If you can't leave the north of Thailand during burning season then there are few (logical) tips to follow: Stay inside as much as you can, wear a N95 grade mask when outside, cover your ACs (house and car) with Hepa filters, and buy an air cleaner with a known track record.
As of now, you have more options on an air cleaner. You can get a good one from We Do Air which is much cheaper than the Toshiba. And good luck!
Note: for useful vocabulary, phrases, and audio about the burning North, go to Hugh Leong's post: Thai Language Thai Culture: Breathing in Chiang Mai. I took the video and photos used in the post just last week on a rare trip out of the house (it was the least I could do).