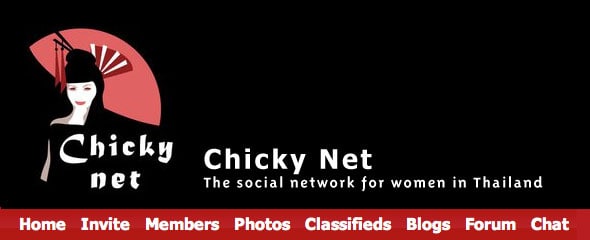 Expat women in Thailand…
If you are an expat women in Thailand, you might feel a bit overwhelmed by the overabundance of expat maleness. When I first arrived, I was. A bit. For a female focus, at that time there was BNOW (Bangkok Network for Women), your bog-standard womens' groups (but early coffee mornings are not my thing), and the Ladies in Thailand forum at ThaiVisa (just gaining speed).
Several years on the situation for expat women in Thailand has improved. My buddy Amy created the resource Expat Women in Bangkok (now offline). And at the exact same time I launched WLT. Ok, neither of our sites are for women only, but hey.
Also an improvement for expat women in Thailand, is Chicky Net (edit: pity, it's now offline as well).
What is Chicky Net: Chicky Net is the online social network for women who have either relocated to Thailand or who are visiting for a specific period of time. The website offers an exciting and fun way to meet other expats and to best of all make new friends with whom they can share their experiences with getting the most out of their time here in Thailand.
When the groups were separated by location I wasn't around that much. But now that Chicky Net has relaunched as one unit, I have do plans.
Chicky Net Relaunches!…
Before Chicky Net relaunched I contacted Berthe, the founder, for an interview.
Berthe, how did you find yourself in Thailand?
My boyfriend and I wanted to try something different and see what it would be like to live in another country. We have been in Thailand for about 2 years now and really love it over here. Thailand is a beautiful country and I like the mentality of the Thais, their friendliness and their mai pen rai attitude. It's probably not for everyone but for me it works really well.
Where did the idea for Chicky Net come from?
After being in Phuket for a while I found it difficult to meet other people and especially women. Back home I was part of an online group for women that wanted to expand their social circle and I had met some great people because of this group. So I thought why not try it here? I created a group on Facebook, posted a topic on Thai Visa and waited. Luckily 2 other girls quickly found the group, they invited their friends, and these friends invited their friends. At one point the group on Facebook just became too big. The Facebook group format was becoming very restrictive so we moved to our very own social network.

The idea behind Chicky Net has always been that the members should mainly run it themselves. Because Chicky Net has members of all ages and nationalities there is always something of interest for everyone and if there isn't then they can create it themselves. The website itself is women-only but if the organizer of an event wants to to include partners as well then that's her call. I really believe that this freedom and the space for initiative is one of the reasons that Chicky Net is so successful.
What are your future plans for Chicky Net?
Initially Chicky Net started in Phuket and its big success was the inspiration to create more networks in other locations in Thailand. It really was such a surprise that women were actually here in great numbers; we were just not very visible. In time there were suddenly 5 networks: Bangkok, Chiang Mai, Hua Hin, Koh Samui and Phuket. It wasn't ideal to manage them separately and the idea came to combine all networks on the same website.

The new website has just launched and it looks just amazing. Members now have access to the members and information of the other locations which is extremely useful for traveling or even relocating. The mix of the activity of the different locations is also very inspirational. And most importantly, the new network created space to expand to other locations, which will be realized soon.

Eventually my dream is to expand to other locations in Asia. But first things first. For now the focus stays on Thailand. I do want to get more Thai ladies on board. We live in Thailand after all and I think that we could learn a lot from each other.
And before I forget… how are your Thai lessons coming?
I had a promising start when I moved to Thailand! Besides learning how to speak I also wanted to learn how to read and write. But then Chicky Net came along and I just couldn't find the time anymore to review or prepare my lessons so I stopped for the time being. What I did learn comes in handy and I continue to learn as I go along. I especially love the Thai script and actually found it easier to learn than the spoken part. Knowing how to read Thai a bit has really been a blessing on many occasions and I always recommend it to people wanting to learn Thai. It's a must for learning how to master the language properly, not to mention that it's great when you can decipher menus, signs or even doctor prescriptions (well… that I can read that I should take this and that medicine for 5 days and 2 times a week)
Berthe,
Chicky Net
Facebook: Chicky Net
Chicky Net Thai…
On Chicky Net there is a Learning Thai group. When you think of 'groups', think 'forum'.
If you are a women in Thailand (expat, Thai, whatever), or if you have contacts with Thailand, then go ahead and look me up at Chicky Net. So far I've connected with most of the lasses who comment on WLT. But if you are a lurker, be sure to give me a nudge too.
And if you are a guy, well, I've heard that guys are allowed in sometimes. But I imagine that being on your best behaviour will come into it quite heavily.