SMOKE: A Crisis in Northern Thailand, the Health Effects and a Solution…
This film was presented as a work in progress at Chiang Mai University's Faculty of Agriculture on January 8th, 2016 to create awareness and begin a dialogue about the yearly smoke crisis in Northern Thailand.
Note: There are subtitles for people who don't speak Thai and/or those studying the language.
Burning in Chiang mai…
When I arrived back in Thailand after the Xmas holidays this year, the Chiang mai air already had the telltale signs of burning. One day the smoke was so strong we walked around to the backyard to see what was on fire (nothing – just another day in paradise?)
It's not even February (typical burning season) yet I'm already housebound due to coughing. When I checked on Asian air quality forecast to see about any possiblities of escaping the boredom, it was quite apparent what with all the oranges and reds, it's not looking good for me.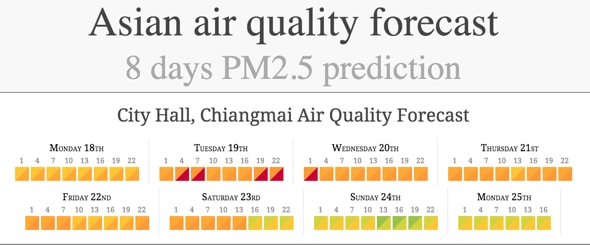 Orange: 101-150 Unhealthy for Sensitive Groups
Red: 151-200 Unhealthy
For 2016 the powers that be 'officially' started the burning in early January. The changes were announced in the New Burning Schedule Ordered in an Attempt to Tackle Smoke Issue.
1–10 Jan: 9.00am – 3.00pm: Doi Tao, Mae Taeng, Mae Wang, Doi Saket, Hod
5–15 Jan: 9.00am – 3.00pm: San Pa Tong, Chom Thong, Sameng, Wiang Haeng
11–20 Jan: 9.00am – 3.00pm: Mae Jam, Mae On, Phrao, Fang
16–23 Jan: 9.00am – 3.00pm: Om Koi, Chia Prakarn, Kanlayaniwattana
26 Jan– 5 Feb: 9.00am – 3.00pm: Doi Lo, San Sai, Muang Chiang Mai, Chiang Dao
6–16 Feb: 9.00am – 3.00pm: Hang Dong, Saraphi, Sankampaeng, Mae Rim, Mae Ai
From what I've know, not many are following the schedule set out by the governor. But if caught will any be prosecuted? Only a handful were charged during the recent disaster in 2015.
Here are two posts on the subject from last season. One by me (where I was still struggling to keep a positive outlook), and one by Hugh Leong walking you through useful vocabulary.
Chiang mai Burning: Could You Survive Thailand's Polluted North?
Thai Language Thai Culture: Breathing in Chiang Mai