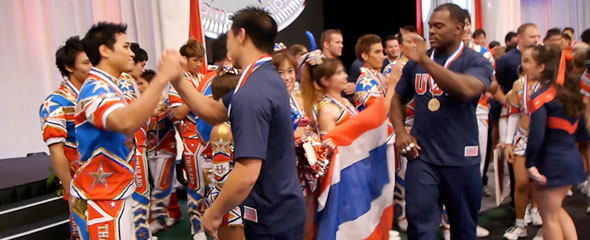 Cheer Ambassadors Kickstarter Campaign…
Eighteen months ago, I made a Thai documentary with two friends. Since then, the movie has become my life. I dedicated all my free time and a lot of my money to making it. It's been shown in five countries, winning Best Documentary in Norway. Now we're trying to raise money to make the film better, and we're hoping that the Women Learn Thai community will help out.
During the month of June we are running a campaign via the website Kickstarter to try and raise the rest of the money needed to make the film. Kickstarter allows projects like ours to collect donations from individuals and then offers unique things like DVDs, t-shirts, photographs, posters, etc … in exchange. As they have an all-or-nothing model we set a goal of $19,999. If we make or exceed our goal, we get they money … but if we're shy of it, then donations are refunded and we get nothing. Ideally we'll raise twice our goal as there's a lot that needs to get done, and nothing comes cheap.
This is an exciting opportunity for people to be part of making a movie about an amazing group of Thai athletes. It's a movie about following your dreams and friendship; a universal story that will especially appeal to people interested in Thailand.
Wise Kwai's: It's the type of uplifting, inspirational story I usually run screaming from. But The Cheer Ambassadors, about plucky Thai cheerleaders who beat the odds to be ranked among the best squads in the world, won me over with boundless enthusiasm and a side trip into the darker aspects of human nature.
Every donation, even $9 or $19, helps get us get closer to our goal. Please check out our Cheer Ambassadors Kickstarter Campaign to see our cool rewards and make a donation.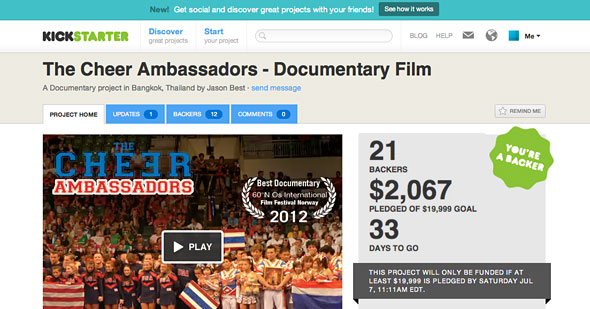 For more about the film, watch the video clip above or read on. But you really should watch the video as it's hard to describe just how impressive competition cheerleading is! And guess what? As 98% of the movie is in Thai you can practice your Thai at the same time!
More about the Cheer Ambassadors…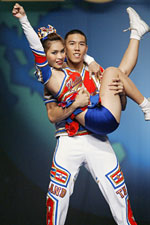 I moved to Thailand seven years ago, and back then, if you asked me about Thai culture, I'd talk about elephants, Khon dance and things like that. I really had no idea at all about contemporary youth culture and the new things that were going on here. Fast forward to about 18 months ago when I was sitting on the beach in southern Thailand with my friend, Jason W. Best, a San Francisco-based entrepreneur and producer, and my boyfriend, Tae Phithakrattanayothin. Tae had been a cheerleader in university and started telling us about his team and the incredible obstacles they'd overcome to become world champions. Honestly, up until that moment Jason and I had visions of girls with pom-poms dancing around a football field, but Tae explained that competition cheerleading is the world's fastest growing sport with over 4,000,000 registered male and female athletes from more than 103 countries. Then he pulled up some videos from YouTube and blew us away with the amazing performances by his university's team.
Tae had lived with the story for so long, that it felt like no big deal to him, but Jason immediately recognized its huge potential. He convinced us that we should all team up to make a film about the team and from then on we dedicated the next 18 months to making it.
We learned that 15 years ago there was no Western-style cheerleading in Thailand, but then a young university student, Sarawut (Toey) Samniangdee, convinced Bangkok University to let him start a team. He taught himself to cheer by watching late-night ESPN broadcasts, he practiced wherever he could find space (often on concrete) and he fought against crazy obstacles to try to create the best team in the world. The movie we created tells their story, it tells the story of the unique bonds of friendship that develop between athletes who live and train together for years. The film also documents the special relationship that developed between cheerleading teams from the United States and Thailand, with both groups inspiring and idolizing each other. It's an inspirational and moving underdog tale about an unknown team that comes from nowhere to place second in the world's most prestigious cheerleading event.
Thailand first took home a silver medal in 2009 and then in 2011, the returned and took home a silver in the one competition and tied with the US for a gold medal in another competition. This second medal is especially significant because it is the only time that a non-US team ever took home a gold medal. I was there when it happened and the crowd reaction was unreal, 10,000 people stood up and chanted "THAILAND! THAILAND! THAILAND!" over and over and over.
We thought we had finished the film back in January when we premiered at the 9th World Film Festival of Bangkok and the Bangkok Post called our film a "movie that every Thai should see", then we showed in five more countries and won Best Documentary from the 60N Os Festival in Norway. Since then, we have gone back to the film and decided we want to add more animation to liven things up and we also want to do professional post-production (Dolby surround sound mix, color-correction, DCP creation, etc…). We made it this far with funding from some generous individuals and corporations, frugal use of credit cards and lots and lots of love. Now we're turning to all of you to help us finish it, here's that link again …
Cheer Ambassadors Kickstarter Campaign
Big big big THANK YOU!