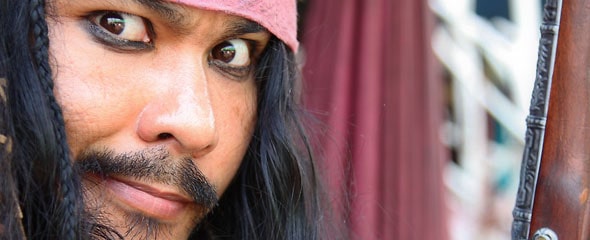 What is a pirate to do in Bangkok?…
A month or so ago, while drifting around JJ Market with my Canadian girlfriend and a Canon KISS, we came across a Thai pirate. Not THIS Thai pirate (who is actually British), but another (not British).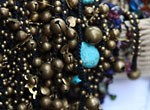 In between selling jewellery and looking absolutely smashing, on most weekends Pirate Jack poses for tourists at JJ Market in Bangkok.
And being the generous pirate he is, instead of pocketing the photo proceeds, he donates all to AIDS stricken children at Wat Phrabatnampo's Center of Hope in Lopburi.
And if you have a generous heart, you can donate too.
Website: Phrabatnampu.org (no longer online)
Monk in charge: เจ้า คุณ อลงกต
Transliteration: jâao koon a-long-gòt
Means: (monk status) Mr. Alonggot
Temple: วัด พระ บาท น้ำ พุ
Transliteration: wát prá bàat náam póo
Direct translation: temple foot water fountain
But actually means: Wat Phrabatnampo's Center of Hope
Wat Phrabatnampo's Center of Hope in the news:
At Famed Thai AIDS Temple Where Thousands Received Compassionate Hospice Care Before Dying, Thailand's Lop Buri Provincial Government, the Dramaraksa Foundation and AIDS Healthcare Foundation Now Partner to Open Free AIDS Treatment Center Providing Lifesaving Antiretroviral Treatment.
More resources…
Buddhist temple AIDS hospice in Lopburi, Thailand
Two Foundations partner open free AIDS treatment
Lopburi in Wikipedia