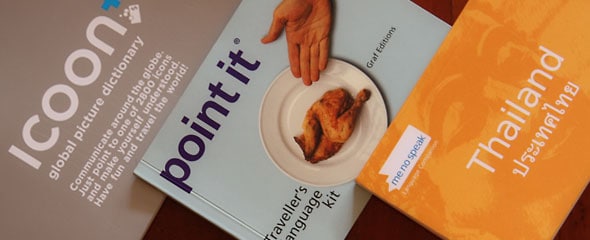 What to do with your guests, lah?…
When guests arrive for a few days of sightseeing in Thailand, what do you do?
Knowing that not everyone has been created equal in the foreign language department, do you…
Shove them out the door and hope for the best.
Send them off with an English speaking taxi driver.
Fill their backpack with Thai language phrase books.
Invest in a Thai-English English-Thai dictionary for a PDA.
Drag your butt to the same tourists spots yet again.
Or do you go for the pictures option?
Pictures to go…

Author: AMBERDESIGN
Publisher: AMBERPRESS
Date: 2008
Pages: 95
Size: 4-1/2 x 6-1/4 x 1/4
Overview: A lot of thought went into this book. It is a large resource, with over 2800 icons to choose from, some in colour. You can even browse 76 sample pages online.
Possible negatives: It's a wee bit large for a medium size pocket, but would go easily in a purse or a backpack. It took awhile to work out what a few of the drawings were trying to put across.
Table of contents:
Clothing
Hygiene
Health
Money
Leisure
Accommodation
Authorities
Travel
Measurements
Emotions
Food
World

Author: Cheryn Flanagan, Benjamin Kolowich
Publisher: Me No Speak
Date: 2008
Pages: 93
Size: 4-7/8 x 3-3/8 x 1/4″
Overview: Small in size, this fabulous phrase book is set up for the English speaker to point to the needed Thai word or phrase, some with graphics. Each section has lined pages for notes, and we always need notes.
Possible negatives: The only fear I have would be it falling apart with too much use, but that pretty much goes for any phrase book.
Table of contents:
General
Food
Transportation
Accommodation
Shopping
Health and safety

Author:
Publisher: Graf Editions
Date: 2003 Tenth Edition
Pages: 64
Size: 3-3/4 x 5-1/8 x 1/8″
Overview: Small in size, this phrase book uses photographs instead of drawings, so you aren't struggling to guess what the artist is going for. And although some photos could mean more than one thing, most are clear.
Possible negatives: This book is not laminated, but it would just be a matter of having that done before tucking it into a purse or back pocket.
Table of contents:
None
NOTE: I've had The Universal Phrase Book and The Wordless Travel Book sent to the UK. I'll add both to the review either while there, or on my return.
Other Pictionary type resources…
Guide to Thailand Free Thai Script Phrase Cards and Phrase Wizard.
The Internet Picture Dictionary
LingvoSoft Talking Picture Dictionary for Pocket PC
The Oxford Picture Dictionary: English-Thai Edition
Thai picture dictionaries…
2,000 Word English-Thai Picture Dictionary
4,000 Word English-Thai Picture Dictionary
5000 Word English-Thai Picture Dictionary
And if you run out of resources, you can always read the Thai Phrase Book series again. Yes?
Reviewing Thai phrase books, the series…