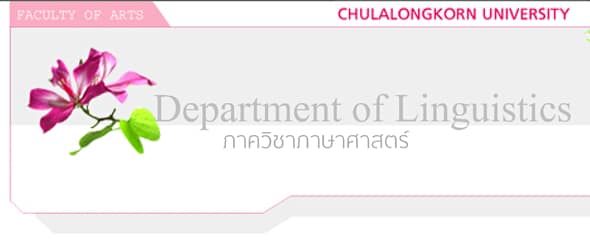 Two Chula Linguistics Research Projects…
If you are a student of Thai and live in Thailand, there are now two research projects that might spark your interest. I've previously discussed one here: Call for English Speakers Learning Thai: Junyawan's Linguistics Research Project at Chula.
These two research projects are similar but still different enough to gain a benefit from. Plus, by doing both, you'll get two reports on your Thai language skills, along with a small renumeration.
Similarities…
Both projects are driven by Ph.D. candidates in Linguistics at Chula University.
The present studies are for native English speakers only (for now – stay tuned).
On set topics, paired participants are recorded having a Thai conversation.
Participants then complete a questionnaire about their personal Thai language history.
The duration of the interviews are roughly two hours each.
At some point each participant will receive a report about their Thai skills.
Differences…
Junyawan Suwannarat:
Participants are asked to make up a story, in Thai, while looking at pictures in a storybook. Responses will be recorded.
Participants translate 60 English sentences into Thai. There is no time limit on this one (results can be submitted via e-mail).
Sumintra Maklai:
Multiple choice test in Thai.
Location and making contact…
The preferred location for the interviews is in Bangkok, but it's very possible that other arrangements can be made. That's if you don't dally making contact (time's a wasting).
To set up interview dates, here are their details:
Junyawan Suwannarat
Tel: 086-915-1074
Email: [email protected]
Facebook: Junyawan Suwannart
Sumintra Maklai
Tel: 086-129-5837
Email: [email protected]
Line: mindy_mean
Note: As I mentioned above, time is getting on, so please do make contact asap. Good luck!