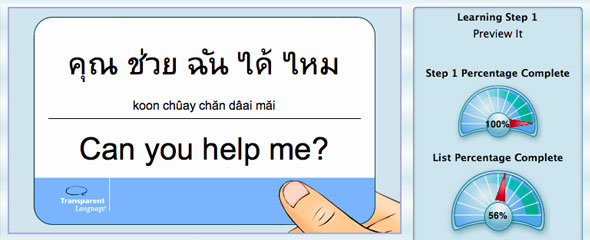 UPDATE: Byki has been discontinued. Pity, as it was the best language learning software of its kind. If you run across similar please let me know
Byki (Before you know it)…
If your language learning style of choice is a SRS (Spaced Repetition System), then Byki might just be the one for you.
And you might also be glad to know that instead of painstakingly filling a SRS with vocabulary and sound, you can start learning right away with Byki's 2,000 words and 500 phrases.
How Byki works…
Learn:
Preview: An introduction to each set. I put mine on auto flip to get a speedy glance through sentences and phrases.
Recognise: You can choose to self-report what you hear and see, or type in the answers.
Produce: Match the English by saying the Thai word out loud, or by typing in Thai script.
Activities:
Multiple Choice: Self explanatory.
Fill in the Blanks: Ditto.
Pronunciation Practice: Record your voice, then compare sound files.
Word Whirl: Thai script and English float around the screen, sound follows.
Concentration: Card matching game.
Four Square: Card matching game.
Take a Test: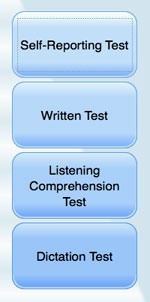 Self Reporting: You are on your honour here!
Written: Read using Thai script or English, then type the translation.
Listening: Listen to Thai sound files, then type using Thai script.
Diction: Similar to listening.
Also included:
Learned Items: An ongoing record of your status and progress.
Look: A review of the present list.
FAQ: Everything about Byki.
Edit: Edit existing cards, or add new.
Making Byki all yours…
Another strength of Byki is the ability to edit or add new cards. By doing so, Byki makes it easy to change the lessons to suit your personal preferences.
For instance, adding transliteration from thai2english.com is just a matter of tweaking existing flash cards.
And when you are at a beginner's level of reading Thai, sometimes spaces between words makes it easier. Once again, it's an easy edit.
If you so choose, on each card you can see the Thai script, then the transliteration, then the English translation. Making this so? Easy. And when your Thai improves, turning the option off is also easy.
When you run out of Byki lessons as well as user generated lessons, creating your own is a cinch.
So looking at it that way, Byki is the software that keeps on giving. And all for US$49.59.
Byki the master importer…
I started out using the SRS method by first inputting my Thai lessons into Anki, then ProVoc and others. With Byki, my efforts are not lost as I can grab what I've created, no prob.
Byki also has the ability to pull in spreadsheets or word docs. Another personal plus, as I have a growing must have vocabulary list for the Thai language.
And (for personal use only), I can import sound from other non SRS Thai language courses.
I can also share what I've compiled with other Byki users… which is sort of the reason I'm writing this post… hint… hint…
But, enough of my opinions already. You can see for yourself by downloading the free Byki Thai Quickstart.
SRS resources…
Byki (Before you know it) from Transparent Language:
SRS – Spaced Repetition System:
What is an SRS? 1 Khatzumoto shows the way with SRS.
What is an SRS? 2 Khatzumoto goes into more SRS detail.
SRS Products:
Anki A program designed to help you remember words and phrases (Mac, Windows, Linux and Debian).
ProVoc Easy-to-use vocabulary trainer (Mac).
SuperMemo A learning method that makes it possible to learn fast and retain memories for years (Windows).
The Mnemosyne Project A flash-card program to help you memorise question/answer pairs, but with an important twist: it uses a sophisticated algorithm to schedule the best time for a card to come up for review (Mac, Linux and Windows).
10000 Sentences Resources:
10,000 Sentences How.
10,000 Sentences Input Before Output.
10,000 Sentences Learn Any Language.
10,000 Sentences Answers To Questions.
Note: Just so you are aware, at this time there are a few basic mistakes in the vocabulary. Byki says that they are in the process of correcting the snafus (don't hold your breath).