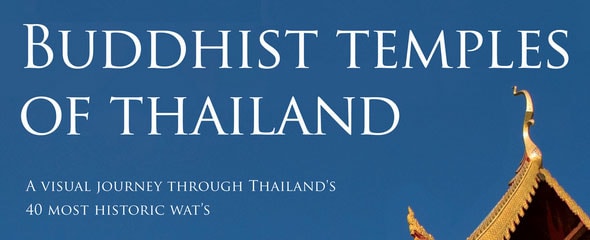 Buddhist Temples of Thailand…
Hey, hey, it's Christmas! This being December and all, and discovering free time before hauling my be-hinie off to other lands, I spent a day waggling my camera at the ten Bangkok temples listed in Joe Cummings and Dan White's Buddhist Temples of Thailand.
Buddhist Temples of Thailand: A Visual Journey Through Thailand's 40 Most Historic Wats – the first illustrated title to cover the key temples in all of the kingdom's regions – explores the Buddhist temple's historical position in Thai culture and the dynamic role it continues to play in everyday life. Thailand's best-known sites and rare gems, such as Wat Phra Kaew in Bangkok and Wat Phumin in Nan, are brought to life through expert text and more than 200 commissioned photographs.
There isn't a record for hitting the most Thai temples in one day, is there? There should be, because I'm writing this the day after and I'm STILL shagged out.
The temples I visited, in order:
Wat Benchamabophit (วัดเบญจมบพิตรดุสิตวนารามราชวรวิหาร)
Wat Saket (วัดสระเกศราชวรมหาวิหาร)
Wat Suthat (วัดสุทัศนเทพวราราม)
Wat Pho (วัดโพธิ์)
Wat Phra Kaew (วัดพระแก้ว)
Wat Daowadeungsaram (วัดดาวดึงส์)
Wat Dusitaram (วัดดุสิตาราม)
Wat Arun (วัดอรุณ)
Wat Molilokayaram (วัดโมลีโลกยาราม)
Wat Suan Phlu (วัดสวนพลู)
It turned out to be quite a day. Even though I've managed to see quite a few temples during the time I've lived in Bangkok, some were new to me (and there were a few I mistakenly thought I'd seen before, but hadn't). Wat Benchamabophit (the Marble Temple) and Wat Saket I intend to see again. Only much slower, next time.
What I learned from the experience:
All of the Bangkok maps I have at my disposal (including Google Maps) are wrong.
Ten Bangkok temples in one day are one too many (you only get credit for nine).
Buddhist Temples of Thailand should be savoured, not gobbled in one go…
…and would make an excellent Xmas gift for those living in Thailand, visiting Thailand, or budding photographers in either category.