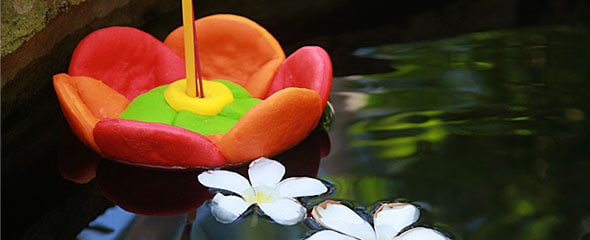 Loy Krathong: 2013…
If you've never experienced Loy Krathong, it's a must. As far as Thai festivals go Loy Krathong is right up there with Songkran. And if you do it right you'll have loads of fun. But, right or wrong, you'll also have to deal with hordes of people. Yeah. And that means traffic.
For Loy Krathong this year I'm in Chiang mai, which is known to get crazy (people and traffic-wise). When chatting with Mia from Learn2SpeakThai she advised:
If you go to the war zone for Loy Krathong festival, be safe!!
I never found out what "be safe!!" meant because I decided to pare down the holiday to a quiet float in a backyard pond instead. No matter. I'll be in Chiang mai for the dual Yee Ping and Loi Krathong Festivals next year. This year has been too busy, too frantic, too, too… you know.
After reading the Bangkok Post article, Loy Krathong round-up, I dropped by Tescos for a new style of Krathong. One made of bread.
Krathong Creations Then: A krathong is made of a slice of banana trunk decorated with folded banana leaves and fowers. Joss sticks and candles are put in the centre. Men get to show of their manliness by chopping down banana trees.

Krathong Creations Now: We float pre-made krathongs of various materials, tangible and intangible. There are virtual versions on websites and smartphone applications you can float guilt-free.

People release bread krathongs in the hope that fish will eat them. This is two birds with one krathong – paying respect to Phra Mae Khongka and feeding fish for extra merit. If you're afraid that a fish may get a piece of bread stuck in its throat, there are krathongs made of waffle cones that are probably easier for them to eat.
Even after not being fed for four days, the fish were curious about the bread Krathong but weren't biting.
Not wanting to make a mess of the pond, I pulled the Krathong back out. Does that still count as paying respect?
Curious about respect and bread Kratongs, I went to Yuki from PickUp Thai:
Wow… that's a hard question. I would say yes. IMO, it doesn't matter how long you leave the krathong floating in the river. It's more the prayer (the appreciation and apology to the river) and your intention to pay respect (expressed by floating the boat onto the river, or in your case, the fishpond) that matter 🙂

I tried looking for an article about bread floats for you because I don't know much about it myself. Unfortunately, it turned to be the worst type of krathong possible in terms of damaging the environment. That was a total surprise. I would've thought it was one of the best materials to make a krathong out of. You can read about it here: กระทงขนมปัง เหมาะสมจะนำมาใช้ลอย จริงหรือครับ.
Thanks Yuki! I needed to know about damaging the environment for next year. This year I was only floating the Krathong in a fishpond, but if I hadn't pulled mine out, there would have been a mushy mess to clean up. A big "Oooops" about the prayer and apologies bit though. Brb…
My appreciation for helping out with this post goes to Thai Skype Teachers Yuki (PickUp Thai) and Mia (Learn2SpeakThai). Happy Loy Krathong!