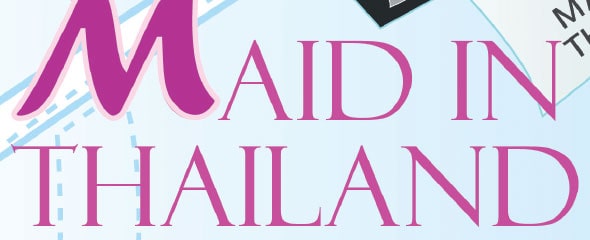 Maid in Thailand (tri-lingual guide: English-Thai-Burmese)…
When Kristen Rossi moved to Thailand she hired a Burmese housekeeper. I've never been brave enough – struggling with one Asian language is more than I can handle – so kudos to her!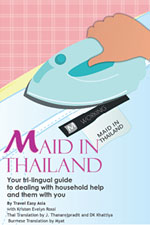 To give instructions on how to cook western food Kristen would write out recipes in English and have her maid give the Burmese translation. Word by word.
This proved to be slow going so Kristen decided to make it into a full-blown project that'd help others in similar situations. Friends suggested making the book into an all around guide for working with household help. Then Thai translations were added. And after a lot of hard work, Maid in Thailand was born.
Kristen: I wrote the book to help increase the harmony between employer and employee, in the setting where your life should be the most harmonious, the home. Enjoy!
What attracted me to Maid in Thailand is how well it compliments my HouseTalk series. Both explain what is required of a maid working for a western employer; how we present the translations is where we differ. HouseTalk aims to teach select Thai phrases, whereas Maid in Thailand is written in same style as Thailand Fever, with chunks of instructions for both sides to read.
Here's a sample of what you'll find:
Chapter One: Hiring a Maid
Chapter Two: Post Hire
Chapter Three: Culture Chock
Chapter Four: Time Management
Chapter Five: Squeak Clean
Chapter Six: Laundry
Chapter Seven: In the kitchen
Chapter Eight: Party Time
Chapter Nine: Let's Get Cooking
For the very reasonable price of US$5.50, Maid in Thailand can be downloaded in pdf format here: Maid in Thailand.
Congrats to Kristen for an excellent product (it's prodded me to get of my butt and finish the HouseTalk series).