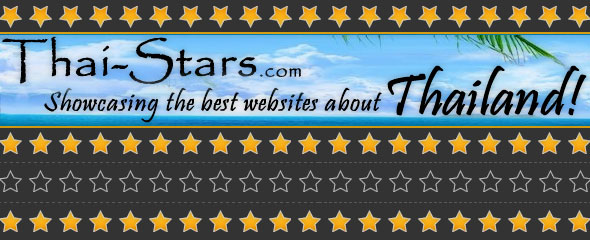 Blogging in Thailand, Bangkok, Ari, bingo…
New since June of 2008, Women Learn Thai is definitely shiny. And being shiny new, I was smiling wide as Stefan added WLT to the Thai-Stars.com roster.
Thai-Stars.com presents the top websites about Thailand. Packed with links to travel sites, personal blogs, information portals and websites of great hotels, resorts, spas. Created for people interested in quality info about The Land Of Smiles. Together we share one passion: Thailand!
A taste of Thai-Stars.com…
On the list you'll find Thai language learning sites such as Rikker's Thai 101 (his knowledge keeps me in awe), and Learn to Speak Like a Thai (by the massive Paknam Web).
The news blogs are as fearless as Thailand allows: 2bangkok.com (heaps of history, news and more), The Bangkok Bugle (news and opinions – no longer online), and thaizer.com (Thai tips and travel guide – no longer online).
How to vote on Thai-Stars.com…

The idea is to rate each blog by clicking on the number of stars you believe they deserve.
1, 2, 3, 4, 5, 6, all the way up to ten. Ten is good.
And for each IP address, you have one allowed click. You can vote on as many sites as you wish, but only one time.
Simple, yes? Ten is good, yes? 😉
Other blog/site lists…
The top 100 Thailand blogs: Accept no imitation
From The Lost Boy, a list that has grown and seasoned over the years.
Blogging Thailand
If you look to WLT's top nav, you'll find a few resources. Blogging Thailand is one.
As ever, this post will be edited if or when more are found.