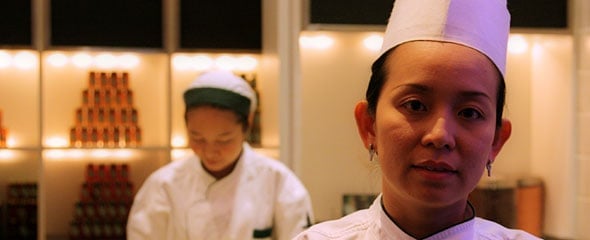 From UAE to Bangkok's Basil and back…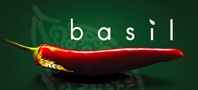 When longtime expat friends arrived in Bangkok from UAE, I knew I'd be in for a whirl of a time.
For no matter where they land in the world, Trevor and Collette hunt down the best foods, the best venues, and the absolute best ways to spoil themselves rotten.
And when I find myself tagging along, I get spoilt rotten too. Absolutely.
On this visit four of us splashed out on a wine tasting feast at the Sheraton Grande's Thai restaurant, Basil. So along with a fabulous meal, we were treated to six GranMonte wines.
The combo of Sheraton Grande's award winning Chef Thanida Amornvatin created a meal so enjoyable I just had to write about it here.
The final deal clincher for a post on Women Learn Thai? The considerable menu partially translated into Thai.
Now about that considerable menu…
Over the years I've had enough tom yam to float my boat to Brazil and back. But Thanida's tom yam – laden down with tantalizing black mussels, sweet tiger prawns and sumptuous scallops – was the best ever. By fathoms.
Thanida's softshell crab rolled atop crispy sesame seeds? Deep sigh… again, a megga best.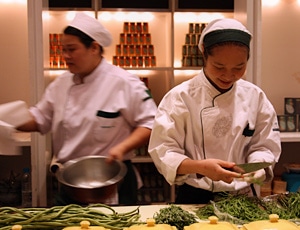 So when the manager of Sheraton Grande, Richard Chapman, kindly agreed to my interviewing Chef Thanida Amornvatin over the weekend, I was there as fast as one could take a taxi to Sukumvit during rush hour in the rain.
Only, no rain. Just the warm sheen of anticipation.
On my arrival, while the staff were impressively preparing the evening's menu in the background, Khun Khemwanta Tangon (Beau) from Marketing took me in hand.
Unquestionably captivated by her profession, Chef Thanida Amornvatin gave an animated rundown of the menu (below).

After our interview, Thanida disappeared into the kitchen to prepare for the evening meal, sending out a wafting plate of tangy sweet tamarind spring rolls (spoiling me even more).
Then, with great timing, Richard waved goodbye at the elevators shortly before Beau saw me off in a taxi to home.
Congrats to Richard on his exceptionally well-trained staff. Nice.
The GrandMonte wine dinner at Basil…
The dinner actually started outside Basil with champagne and hors d'oeuvres. Anticipating the rather large meal to come, I passed on the nibbles. Mostly. The one with lemon grass (I neglected to get the name) had the whole group raving. That one, I did try.
Apologies, but I won't go into the different wines included with the dinner except to say that the reds were favoured by the males at the table, the whites by the females, while the 2007 Primavera Unwooded Chenin Blanc Columbard was enjoyed by all.
During the meal, Thailand's first female oenologist, Nikki Lohitnavy of the GranMonte family, took us from GrandMonte's 2008 Unwooded Chenin Blanc all the way back in time to their deep 2005 'Fiori' Unfiltered Syrah. Quite an accomplishment.
So here we go…
Appetizers…
Crispy soft shell crab in tempura
ปูนิ่มทอด
bpoo nîm tôt
crab soft fry

Chef Thanida: To start off the appetizers, we have the bpoo nîm tôt. This is the deep-fried softshell crab (mangrove crab) from the south of Thailand. First, it's cleaned. Then using a tempura flour mixed with sesame seeds, the crab is fried until crispy. To finish, bpoo nîm tôt is served with a tamarind sauce, the mix of sweet and zesty flavours complementing the crunchy crab.
Pommelo salad with shrimp
ยำส้มโอกุ้ง
yam sôm-oh gôong
Thai dressed salad, pommelo, prawns

Chef Thanida: Next up for appetisers was the refreshing pommelo salad. Foreigners like pomelo because it's easy to eat and the taste goes well with wine. To challenge the denseness of the pork we mix the clean citrus of a pommelo with the tartness of kaffir lime leaves.
Marinated salmon in rice paper roll
ปอเปี้ยะเเซลม่อน
bpor bpía saamon
egg roll salmon

Chef Thanida: The final appetiser is a spring roll. Normally prawns or tofu are used as the main ingredient in spring rolls. But instead, I chose smoked salmon to balance out the complex flavours of the previous appetizers.
Wine: GrandMonte
2008 'Fiori' Unwooded Chenin Blanc
Soup course…
Seafood soup, 'tom yam' flavours
ต้มยำทะเลนำข้น
dtôm yam tá-lay náam kôn
spicy lemongrass soup, sea, water, strong

Chef Thanida: Tom yam, well-known by foreigners, is a good representation of Thai food. The traditional tom yam usually includes fish or chicken. For this dinner, I went with top ingredients – black mussels from the US, tiger prawns and scallops from Thailand.
Wine: GrandMonte
2007 Primavera Unwooded
Chenin Blanc Colombard
Main Course…
Stir fried tiger prawn with tamarind sauce and sweet basil
กุ้งทิพรส
gôong típarót
prawn taste nice

Chef Thanida: For the main course we've chosen gôong típarót, which is fried prawns with tamarind and basil. The taste is not too hot, not too spicy.
Wine: GrandMonte
2007 Primavera Unwooded
Chenin Blanc Colombard
Lamb skewer with pá-naeng curry sauce and egg noodles
เเพนงเเกะย่างกับบะหมี่ไข่
pá-naeng gàe yâang gàp bà-mèe kài
curry lamb roast with noodle egg

Chef Thanida: Pá-naeng is a big red curry. Again, this is a mild dish. For pá-naeng gàe, Thais normally use sliced meat in the curry. I wanted to present the dish in a different way, so I put the lamb on a bamboo skewer to grill. Then pá-naeng curry was poured over the top. Usually, this dish is eaten with rice, but instead I chose to flatter the skewers by using egg noodles instead.
Wine: GrandMonte
2007 'Primavera' Syrah
Grilled beef rib-eye with garlic sauce and chayote
เนื้อย่างราดซ่อสกระเทียม
néua yâang raad sòt grà-tiam
beef grilled spread over sauce garlic

Chef Thanida: The original Thai dish is stir-fried or cooked in a sauce. While keeping true to the basic Thai taste, I wanted to vary the recipe. I used fresh Thai garlic (the small one) and Thai green peppercorns. Low mounds of sliced grilled beef are then topped with the thick sauce. For a contrast in texture and flavour, the meal is served with two colours of rice – jasmine and brown.
Wine: GrandMonte
2006 'Primavera' Unfiltered Syrah
Wine: GrandMonte
2005 'Fiori' Unfiltered Syrah
Dessert…
Ginger crème brûlée with deep fried banana and passion fruit sorbet
ครีมบรูเลยืขิง, กล้วยทอด, เเละไอศครีมเสาวรส
kreem brule kĭng, glûay tôt, láe ai-sòk-reem sawarót
Creme bruleeginger, banana fry and ice cream passion fruit

Chef Thanida: Deep friend bananas are sold on the streets in Bangkok and everywhere in Thailand. Street fried bananas are often crispy on the inside because they are on skewers and the slices are very thin. But my recipe is a little bit different because the banana is soft inside with a crispy outside. In addition, mine is served with a ginger crème brûlée. Normally crème brûlée has a mild taste, so to raise the flavour I used ginger and served it with a light passion fruit ice cream on the side.
A changing Thailand…
Chef Thanida: At dinner time, 50 to 100 years ago, Thais would normally put all the food in the middle of the table. Everyone had one plate of rice, and we ate and chatted together. Not like today, where in this meal, I served individual dishes. A long time ago our beverages were water or maybe beer (but not much). Now some Thais have switched to wine because Thailand has a changed economy, with an emerging wine industry.
Chef Thanida: But although we now use modern presentation techniques for our dishes, we still use traditional ingredients. We use rice powder, chilli, lemon grass, kaffir limes… all original Thai ingredients.
Thai cooking course at Basil…
Chef Thanida: We have about 30 items for the Thai cooking class. In each class the guest chooses which dishes they'd like to cook. If they don't see what they prefer, they can also choose from the large menu at Basil. The courses can be one on one, or be made up by a group of friends.
I'm not sure about you, but I'll certainly be taking advantage of Thai cooking classes with Chef Thanida – with friends in tow.
A recap of the wine tasting evening…
So to recap, the wine dinner included… champagne; hors d'oeuvres; five GrandMonte wines; crispy soft shell crab in tempura with tamarind sauce; pommelo salad with shrimp; marinated salmon in rice paper roll; tom yam with mussels and tiger prawns and scallops; stir fried tiger prawn with tamarind sauce and sweet basil; lamb skewer with pá-naeng curry sauce and egg noodles; grilled beef rib-eye with garlic sauce and chayote; ginger crème brûlée with deep fried banana and passionfruit sorbet; and finished off with the most beautiful chocolates.
What? I forgot to mention the chocolates? The clever Thai style assortment of dark chocolates filled with chili and lemon grass and jasmine? Those chocolates? They were simply amazing (especially the jasmine).
From Bangkok's Basil to the GranMonte Estate…
In the morning, my visitors went off for more. Off for a tour of the GranMonte Estate in Khao Yai, where they cut grapes off vines, followed by brunch at Vincotto with yet more GranMonte. Knowing my limits at fun, I'd declined the invitation. And from their excited text messaging, I know they had fun.
Ok, just living in Thailand with all its wonderful food is a treat and a half for me. And this, well, this was a totally grand Thai meal to remember.