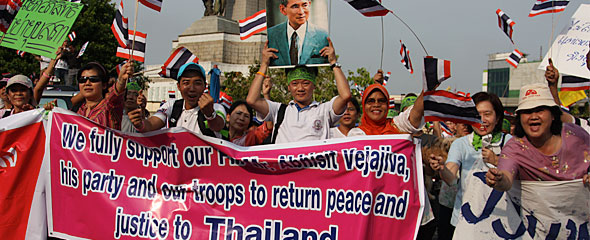 So, am I Red, Yellow, Pink. Or Blue even?…
Thailand is awash with colour: Red, yellow, pink and blue. And as most everyone knows, on Mondays we used to watch seas of Thais heading to work wearing yellow shirts. But now the wearing of yellow is no longer seen as just supporting the King because yellow has taken on a different meaning. To some, the wearing of yellow is fighting words.
You've seen a lot of the colour red on this blog, so some of you might be wondering about my political leanings. I mean, I haven't taken many photos of the Yellow Shirts. And yeah, I totally missed the Pink Shirt rally at Lumpini Park. My bad.
Well, it's simple really. Until this weekend, the other factions haven't been in my sights. Also, my driver is a Red Shirt (most are in Bangkok). And while he has been known to nonchalantly detour right through the Red's stomping grounds (which is where a lot of my photos come from), he's not about to make the mistake of visiting the opposing side.
Do I know how lame this sounds? Yes. I do. And I apologize. Seriously.
Friday, on my way home from Kao San Road, I got an opportunity for a change of colour when driving past the Pink Shirts surrounding Victory Monument.
Btw – Only expats call it Victory Monument. Thais (and taxi drivers especially) call it อนุสาวรีย์ชัยสมรภูมิ à-nú-săa-wá-ree chai sà-mŏr-rá-poom/ or อนุสาวรีย์ชัย /à-nú-săa-wá-ree chai/ for short. The monument is a great place for protestor watching (since I've been here it's mostly red, but the others look to be catching on).
So here you have it. Finally. My adventure with the Pink Shirts:
Going 'round in circles with the Pink Shirts at Victory Monument…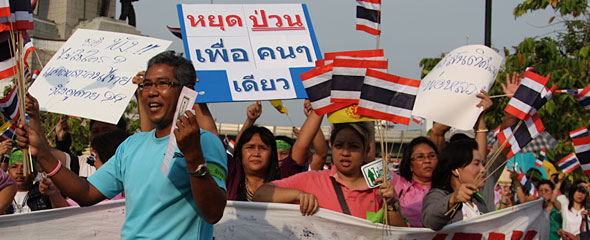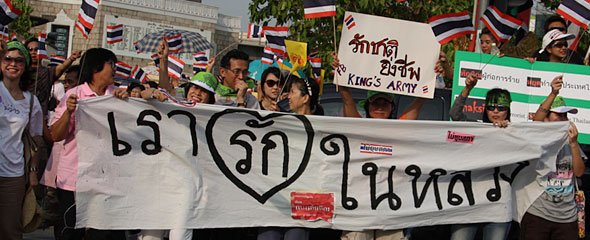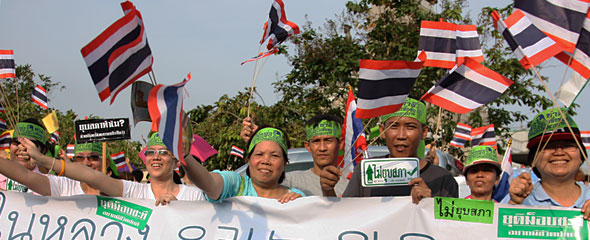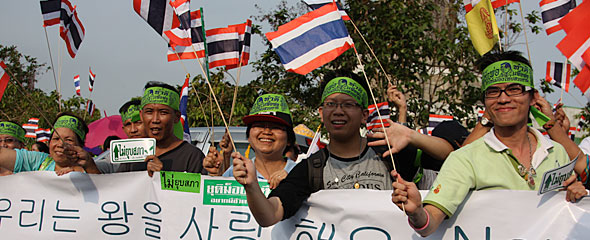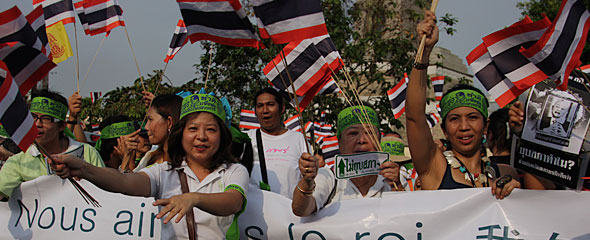 Just look at all those cheerful people…
As we were driving slowly around Victory Monument, Khun Pissout was muttering darkly:
Do you see them? They are all rich people.
Only hundreds protest, but the press will report thousands.
Those kids, do you see them? They are students with rich parents.
Poor Thai kids can't afford to go to Chula.
Did you see all those Chinese faces?
So, did I see Chinese faces? Or did I see Thais? Dunno. What did you see?
Khun Pissout's comments outlined the basic resentment from the Reds (who apparently have nothing) towards the Yellows (who are supposed to have everything). Since I wrote this post, I've been told that his statement shows a lack of knowledge, as poor kids in Thailand can and do go to Chula on scholarship. Yeah Chula!
In response to the video, a friend mentioned translating the signs. But there really is no need as the Pink Shirts have translated their main sign into: English, German, Italian, Swedish, Russian, Chinese, Japanese, Korean, Hebrew and Arabic.
My personal hope? That this latest political kerfluffle will free up a Chula education for all Thai citizens. North. Central. South. All. Because until the North gains access to decent education from toddler times on up, there will be no Chula in their future.
Btw – I cruised around Khao San Road too. But what I found etched on the walls by the Red Shirts was depressing. As I'm wanting a break from sad, I'll save it for later. Maybe Sunday. Or Monday. Or never. We'll see.