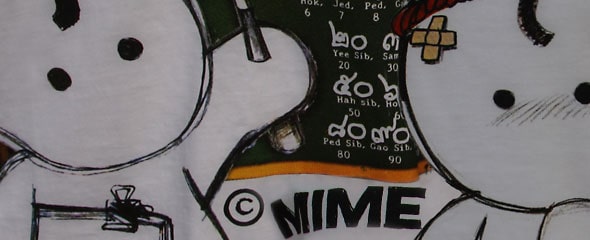 MIME: มีเม่ (มี-เม่): mee mây…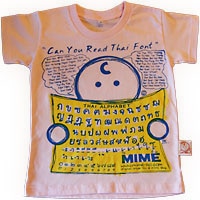 On Saturday, while trolling for faces at JJ Market (Chatuchak) in Bankgok, I snagged yet more quality Thai Alphabet t-shirts to go with my growing collection.
MIME, a creative company owned by Thai dancer ลาวัลย์ เอกอุรุ (โอ) and graphic designer สีลนิ่มกิตติกุล (TK) produces fun t-shirts, some with a Thai / English combo.
For those needing Thai – English transliteration, their names go sort of like this: Laawan èkòró (Oh) and Sĕen nîm gìt-dtì goon (TK). Thais rarely use their given names so from now on I'll stick with Oh and TK.
Doing my best to support the Thai economy, I purchased shirts for friends and family. I chose three 'Can You Read Thai Font' shirts in different colours for the little ones (shown above), three cute tuk tuk shirts for the larger members, and one Thai boxing t-shirt printed on black for the son (designer black is a gotta).
I also ended up with a sweet helicopter theme with CNN woven in. And as CNN is fondly nicknamed 'Chicken Noodle News' in my world, I couldn't resist.
The history of MIME: มีเม่ (มี-เม่): mee mây…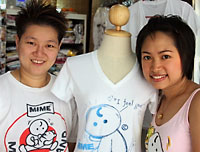 From childhood, it's been TK's dream to own a company selling her creations. The logical first step was art college, and once she'd graduated, she turned her attentions to learning the practical aspects of running a creative business: marketing, sales and dealing with clients.
TK's first job found her working as a creative for an advertising company. Next up, she graduated to graphic designer at Phutket Fantasea where she designed the Thai and English version of their logo as well as the mascots (the elephant and the prince).
It was while working on the at Phuket Fantasea show that she met her partner Oh (shown on the right), a drama major from Silpakorn University who was, at that time, a Thai dancer in the show. After hitting it off, they decided to build TK's dream together.
The creation of MIME's mascot…
In my experience, the creative process is at its best when a designer is forced to work around limitations.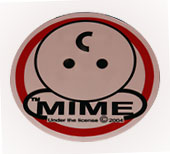 TK and Oh's limitations were financial constraints. Therefore, the product theme needed to be simple and inexpensive to reproduce.
While researching, TK brainstormed a simple cartoon character of a mime. And as a mime doesn't talk, she cleverly left off the mouth.
mime |mīm|
The theatrical technique of suggesting action, character, or emotion without words, using only gesture, expression, and movement.
For the company name, they checked to see how other countries handled the word mime. In the end they chose the German, pronounced mee mây in Thai.
They went with stationary for their first product using the MIME character, but not having a wide enough reach, soon expanded to t-shirts.
Still under those mentioned financial constraints, each shirt was hand painted (I can only imagine the time each took). When their business base grew, they switched to the inexpensive-to-produce designs you see now.
Often when shopping for clothes in Thailand expats are left wanting. But not at MIME. Their t-shirts go from a petite child size to a roomy XXXL, so everyone's covered.
For the full range of designs and sizes visit their website at MIME (no longer online), or drop by JJ Market in Bangkok to visit with Oh and TK at their two shops.
Enjoy… I know my kids, Jay and Lx will!