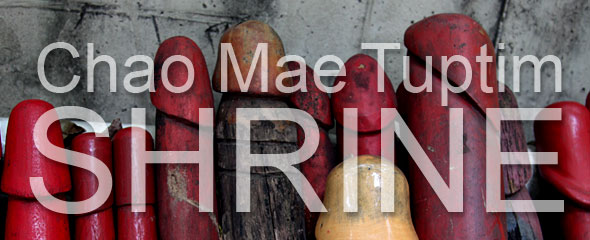 Sightseeing around Bangkok…
Last month a friend emailed to say, "I'M COMING TO BANGKOK!"
I emailed back, "Whooh! WHEN?"
A mere two days after his arrival, David had already paddled up the floating market, tussled for eight hours with tigers, then dropped a krathong into the klong. And more.
Which got me wondering…
… just what unique experience can I thrill David with now?
The Grand Palace, the Golden Buddha, Wat Po… the… the… the…
Wait! How about going off the beaten path to…
…the Chao Mae Tuptim Shrine?
Sightseeing at the Nai Lert Park Lingam shrine…
Piling into Khun Pisout's taxi, we were driven past the security guards and onto the grounds of the Nai Lert Park Hotel (formerly a Hilton, it is now a Swissôtel).
Walking from the bright sunshine of the Nai Lert Park Hotel into Nai Lert Park, it took a minute for our eyes to get used to the patchy shade.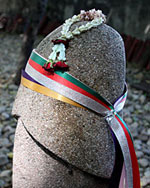 Soon enough, the expected forest of mushroom shapes sprouted from the dark.
Only, they are not mushrooms. They are penises. Ribbon wrapped, flower topped penises.
There. I've said it twice now. How brave of me.
The first time I visited the Lingam shrine at Nai Lert Park, I was with my Canadian buddy Lynn. And I wasn't the only one sporting embarrassed smiles whenever penis was repeated. Which was often.
By the time David arrived, I was mostly immune. And mostly brave.
Penis, the word I could barely speak on my first visit to the shrine, now felt natural enough to say out loud. And as David and I stood sharing perspectives, there was no tittering, no embarrassed smiles even. Oh my.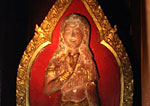 In middle of the park is the real reason for the shrine. The goddess: Chao Mae Tuptim.
To get a photo of the wooden carving depicting the goddess, I stepped up on the platform, then leaned forward to peer through the narrow door of the spirit house.
As it is fairly dark inside the house, I took along a flashlight, but an ordinary camera flash will do (my thanks for that tip goes to thaiwebsites.com).
At the entry of the park is a metal sign:
The origins of Chao Mae Tuptim are obscure. It can only be recalled that a spirit house was built by Nai Lert for the Spirit who was believed to reside in the large Sai (Ficus) tree.

The basic offerings are fragrant wreaths of snow-white jasmine flowers, incense sticks, pink and white lotus buds.

Chao Mae Tuptim has received yet another less conventional kind of gift, phallic in shape, both small and large, stylized and highly realistic. Over the years they have been brought by the thousands, and today fill the area around the shrine.

Confronted by the extraordinary display the shrine has automatically been concluded to be dedicated to fertility.
Questions, I have questions…
Taking the mention of obscure as a challenge, I compiled a list:
The goddess of the shrine is known as Chao Mae Tuptim.
Chao Mae Tuptim's background is unknown.
Nai Lert built a spirit house for Chao Mae Tiptim.
The original offerings were: Jasmine flowers, lotus buds, and incense.
The lingam (phallic) offerings changed the focus of the shrine.
The list brought up these questions:
Who is Nai Lert?
Who is Chao Mae Tuptim?
Who decided that the tree spirit was Chao Mae Tuptim?
Why were the lingam's brought to the shrine?
More questions were added as I went along, but I will leave them for now.
Who is Chao Mae Tuptim?…
Finally! Yeah, I finally get to quote from one of my books on spirit houses.
Spiritual Abodes in Thailand: According to one account, she (Chao Mae Tuptim) was originally a Chinese deity who lived on an island in the South China Sea… and was particularly revered by seafarers.

When people from that region, mostly Techew and Hainanese, began migrating to Thailand in large numbers, some who lived near bodies of water erected shrines in her honour.
So I now have three additional pieces of information:
Chao Mae Tuptim is a Chinese deity.
She protects fishermen and sailors.
There is more than one Chao Mae Tuptim shrine.
The book goes on to mention a different Chao Mae Tuptim shrine in Bangkok. Located on the Chao Phraya River in the Samsen district, the shrine was built in 1842 by the Teochews (แต้จิ๋ว), a Chinese ethnic group. The book also maintains that it is possibly the first Chao Mae Tuptim shrine in Bangkok.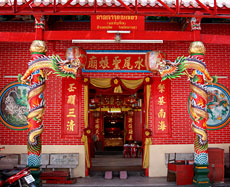 Curious to see what another goddess shrine would look like, I went looking. In the photo to the right is the Chao Mae Tiptum shrine located next to the Thonburi bridge. And as it is also deemed to be the first Chao Mae Tiptum shrine built in Bangkok, they are most likely one and the same.
The difference? The credit for building this shrine goes to another Chinese ethnic group, the Hainanese (ไหหลำ).
During my visit, I was informed that the building was not really a shrine or a temple. It was more of a residence for the spirit; a sanctuary. Confusing.
ศาล (săan) shrine; spirit house
ศาลา (săa-laa) pavilion; wayside shelter; hall
ศาล เจ้า (săan jâo) shrine; joss house; place of worship
What's up with Chao Mae Tiptum and penises?…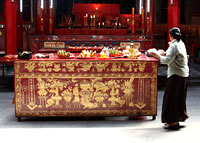 On my visit to the Chao Mae Tiptum shrine (the one near the Thonburi bridge), I took care to notice the offerings: Flowers, fruit, incense, and a bottle of cooking oil. But no penises.
Legend has it that until a worshiper become pregnant after making a request of the goddess at Nai Lert Park, the typical offerings were fairly similar: Jasmine flowers, lotus buds and incense.
The unknown women, at an unknown time, left a phallic offering as a thank you for the birth of her child. And when word got around about the successful pregnancy, those hoping for children followed suit, but others stuck to the original plan. With a twist.
William Warren's Bangkok: Most people, at least my farang friends, assumed it [the phallic offerings] had something to do with sex, probably a desire for children, but those who actually came with offerings assured me this was not the case.

The spirit's powers were far broader, they said; in addition to helping the barren and impotent, she could grant all kinds of wishes, though in return she had a marked preference for phallic objects.
Spiritual Abodes in Thailand: Research suggests that the majority of requests relate to more mundane matters such as winning the lottery, relief from illness and making a profit in business.
So while Chao Mae Tiptum is not a fertility goddess, at this particular spirit house she acquired a hankering for lingams. But, those bringing the lingams are not necessarily aiming at becoming fertile, and those wanting favours do not always bring lingams. Sure. That makes sense.
Still on the lookout for more, I discovered that apart from the Chao Mae Tiptum at Nai Lert Park, the closest place of worship with lingam type offerings (ศิวะ ลึงค์) in Thailand is Phra Nang (พระ นาง) in Krabi (which also has a fisherman's focus).
ศิวะ (sì-wá) Shiva
ลึงค์ (leung) penis
พระ (prá) title used for a revered person
นาง (naang) woman; lady
If you a lingam fan and are up for a bit of travel, head to Japan. There you will find the Tagata Jinja shrine and (given the right time) the Kanamara Matsuri festival.
Mâe Yâa-naang or Jâo Mâe Táp-tim, what's in a name?…
In southern Thailand, the goddess in question is known as Mâe Yâa-naang (เเม่ ย่านาง), which loosely translates to Mother(ing) Guardian Spirit. She is also known as Mâe Yâa-naang Reua (แม่ ย่านาง เรือ), which I'm guessing means Mother Goddess of Seafarers.
But in central Thailand (where I live), she is known as Chao Mae Tuptim (เจ้า แม่ ทับทิม).
Using my transliteration style of choice, Thai2english.com gives us Jâo Mâe Táp-tim. And to make the name easier to pronounce, I will stick to that version.
Jâo Mâe Táp-tim could mean Red Mother Goddess in Thai.
เจ้า แม่ (jâo mâe) goddess; female guardian spirit; angel
ทับทิม (táp-tim) ruby; ruby red; pomegranate

But to find out who she is, what I really need is the Chinese name for the goddess.
At the Thonburi bridge Jâo Mâe Táp-tim sanctum, I was told that the name above the door was the Chinese name for the goddess, but in Thai script. Supposedly, it is a transliteration of the Chinese spoken with a Hainanese (ไหหลำ) accent.
The full Thai script is: ศาลเจ้า จุ้ยไบเนี้ยว
ศาลเจ้า (săan jâo) means place of worship in Thai.
จุ้ยไบเนี้ยว (jûi-bai-niêo) is the Chinese name for Jâo Mâe Táp-tim.
Asking around, no one at the temple knew the actual Chinese (Hainanese?) name for the goddess, so I continued on with my quest.
And this is where google comes in handy (where previously it had failed). Or where I thought it had failed.
Googling ศาล เจ้า จุ้ยไบเนี้ยว (săan jâo jûi-bai-niêo) connected me with the official name of the Thonburi shrine: สาม เสน เทียง โหว เต๋ง (săam săyn tiang wŏh dtăyng). The name niggled me to go back to a discarded wikipedia page. Discarded, because at the time I felt the information was not a good fit (and hey, I'm new at all of this!)
And no wonder I had wandered off the page. I mean, just look at all of the different names for the Chinese goddess!
Mazu (goddess): Māzǔ, Ma-tsu, Má-chó, Matsu, Mother-Ancestor, Elder Lady Mazu, Heavenly Empress, Heavenly Queen, Heavenly Princess Consort, Grandmother, Heavenly Holy Mother, Princess of Supernatural Favour, Protector of the Empire and the Brilliantly Outstanding Heavenly Princess, Holy Mother of Heaven Above, Heavenly Empress, Holy Mother in Heaven.
And not a single Red Mother Goddess amongst the lot.
What was the deciding factor? This bit… (the bit I missed)
In Thailand, there are a lot of Mazu temples too, especially in cities near the sea such as Bangkok, Chonburi, Pattani, and Phuket. There are 3 shrines as Gew Leng Thong, –>> Sam San Tian Hew Geng, Keng Jew Hui Guan.
So Sam San Tian Hew Geng is Săam Săyn Tiang Wŏh Dtăyng (have I mentioned just how much I dislike the uncertainty of transliteration?)
I now give you the real Jâo Mâe Táp-tim – Mazu…
Apparently, Lin Moniang (the goddess Mazu) was born in 960 AD (พ.ศ. ๑๕๐๓), on the island of Meizhou, Fujian.
There are many legends going around – google if you need to fill a few hours – but they all note that Mazu had powers from a young age: second sight, saving people from drowning, fighting dragons even.
But most of all, the legends agree that Mazu's abilities focused on seafarers (not fertility).
… Indigenous goddess of the sea who protects fishermen and sailors, and is invoked as the goddess who protects East Asians who are associated with the ocean.
And this part mostly answers the red issue:
She wore red garments while standing on the shore to guide fishing boats home, even in the most dangerous and harsh weather.
So there you have it. Jâo Mâe Táp-tim is the Chinese goddess Mazu.
Maybe.
Now, here's the kicker…
After days of research and running around Bangkok, and with this post already written, I went back to the Jâo Mâe Táp-tim shrine on Thonburi to get special permission to photograph the shrine.
An hour into the visit, the manager arrived. Perfect. So my outstanding question was put to him: Do you know the meaning of the transliteration over the temple doors? Yes. Well, mostly yes.
จุ้ย (jûi) is water
ไบ (bai) did not know
เนี้ยว (niêo) being female
จุ้ยไบเนี้ยว (jûi-bai-niêo) Water Goddess
Rikker from Thai 101 helped too. He located the alternative name for the southern goddess (mentioned above), and discovered two more ways that the Thais are spelling the Chinese name: จุ้ย โพ เนี้ บว (jûi poh niêo bà-wá) and จ้อ โป๋ (jôr bo). And I thought transliteration was confusing… Thanks Rikker!
Hindsight: There are a number of things I could have done to shorten my research time. But would it have been as fun? Nahhh…
And I still have questions to answer…
Who is Nai Lert?
Who decided that the tree spirit was Chao Mae Tuptim?
And hey, what's up with all those penises in Thailand?
And as this post is long enough already, the remaining questions will have to wait for another day.
Directions to the Nai Lert Park…
Getting the the Nai Lert Park in Bangkok is easy, especially if you go via taxi. Head to the Swissôtel Nai Lert Park Hotel on 2 Wireless Road. At the hotel entrance you will be stopped by a guard. Politely inform him of your intentions, then park either in the hotel parking on your right, or take a left and park closer to the shrine.
If you are arriving via foot, then Richard Barrow's directions work just fine: Chitlom BTS station >> exit sky train via Central Chitlom department store >> once outside the store, turn left >> turn left on Soi Somkid >> turn right into Swissôtel Nai Lert Park Hotel >> turn left once you are past the hotel guards.
And if you are arriving by boat, please let me know how it goes.